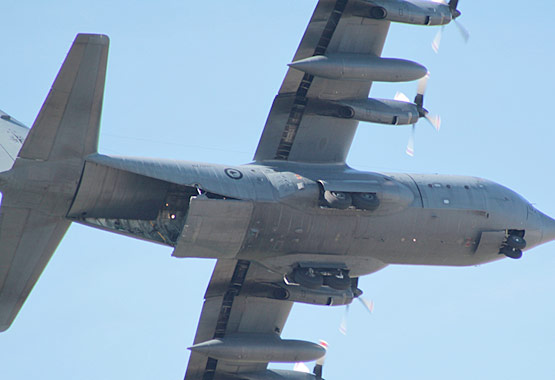 Discuss (Up to OJB's Warbirds 2012 Page)
Hercules
The Hercules is a great aircraft: various models have been in use since 1957 by dozens of countries and is still in production today, it has plenty of power and is quite fast for a transport plane, and it is surprisingly agile when operating without a load. It can also operate from short runways and has a very low accident rate. The almost 20,000 total horsepower can power the "Herc" to over 550 kph. It can carry a load of 17 tonnes and an amazing 28 tonnes of fuel giving it a range of over 4,000 kilometers.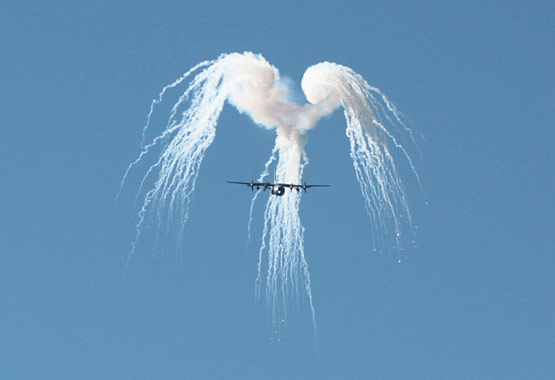 Above is a photo of the C-130 Hercules deploying flares giving the characteristic shape known as "Angel Flares". Below is a photo of a landing. Because the props can produce reverse thrust the landing distance can be as little as 350 meters (1150 feet).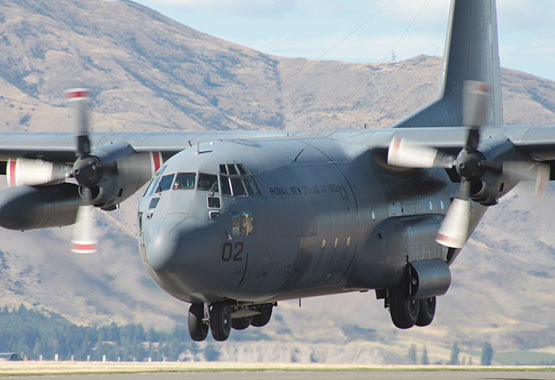 C-130H Hercules Specification
Manufacturer: Lockheed (USA)
Power plant: 4 x Allison T56-A-15 engines (4,910 shaft horsepower)
Length: 29.8 m (98 ft)
Wingspan: 40.5 m (133 ft)
Height: 11.7 m (38 ft)
Basic weight: 34,927 kgs (77,000 lbs)
Gross weight: 70,307 kgs (155,000 lbs)
Max payload: 17,250 kgs (38,000 lbs)
Max fuel: 28,540 kgs (62,920 lbs)
Ferry Range: Approx 7,400 km (4,000 NM)
Typical Range: Range of approx 4,100 km (2,200 NM) with payload of 12,700 kgs (28,000 lbs)
Note: All performance figures for still air, ISA conditions with standard fuel reserves
Cruising speed: 555 km/h (300 kts)
Operational altitude: Sea level - 12,802 m (42,000 ft)
Crew: Two pilots, one navigator, one flight engineer and two loadmasters
Passenger Configuration: 92 Troops or 64 Paratroops
Medivac Configuration: 74 stretchers
Freight Configuration: 6 cargo pallets
Fleet History: The RNZAF currently operates five C-130 Hercules. It took delivery of the first three Hercules (NZ7001 - NZ7003) in 1965. These were the first C-130H production models off the Lockheed production line. A further two C-130H, (NZ7004 - NZ7005) were added in 1969. Currently the aircraft are undergoing a modernisation and structural improvement programme to ensure that last until 2015.
Sources: Wikipedia, RNZAF, Warbirds Over Wanaka 2012 Programme.