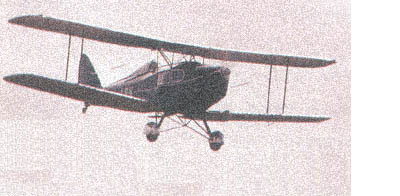 (Go to OJB's Photo Page) (Up to OJB's Warbirds Page)
Warbirds over Wanaka Air Show
The air show is held every two years at the Wanaka airport, a small airfield surrounded by the magnificent rugged scenery of Central Otago. Snow capped mountains rise from all sides of the long valley containing the airport and there is even a convenient large gully nearby, where the river runs through, where aircraft can conveniently fly to hide from the crowds - very useful to conveniently dispose of "shot down" aircraft during mock battles!
The main air show runs for two days and attracts bigger crowds every year - this is reputed to be the biggest air show in the Southern Hemisphere! People with an interest in historic aircraft come from over the world to see the show. An informative commentary by some of the world's leading air show commentators runs during the entire day.
The Alpine Fighter Collection
The Alpine Fighter Collection now includes the following impressive array of historic aircraft: Spitfire, Mustang, Kittyhawk, Corsair, Avenger, Yak, Polikarpov, Nakajima, Hayabusa, Zero replica, Messerschmitt 109 and 110, Focke Wulf 190, Ju 87 Stuka, three de Havillands, Avro 504K and a Yak-50.
Restoration is currently proceeding on the following: Me 109-E, Focke Wulf 190-A8, Polikarpov I-16 monoplane, Polikarpov I-153 bi-plane and Avro 504-K. Restoration of the following has yet to be started: two Me-110 fighter-bombers and two Junkers Ju-87 Stuka dive bombers.
Most of these aircraft are beautifully restored and in full working condition, a real tribute to the work done by the organisation with the lead of Sir Tim Wallis and especially impressive for such an obscure town in a small country like New Zealand!
The Photos
I used a Canon EOS-5 camera with a 28-200 mm zoom lens for the 1996 photos, and a Canon 35-80 and (mostly) a Canon 80-300 lens for the 1998 photos. The film used was Fuji 200, 400 and 160 professional print film. I scanned the photos on Microtek E3 and E6 scanners attached to my Power Mac 7200/120. Video digitising was done on my Power Mac 8600/200.
For the 2000 photos I used the Canon again, plus a Sony digital video camera and a Sanyo analog video camera. I also had a Kodak digital camera, but it didn't produce any worthwhile photos.
In 2004 I use a Sony DSC-P150 digital camera, the trusty Canon film camera again, and the Sanyo analog video camera. The film was processed and written to CD by the photo lab.
In 2006 I used a Canon EOS350D digital SLR with a Canon 75-300 mm zoom lens mainly used at near it's maximum focal length (equivalent almost 500 mm).
In 2010 and 2012 I use a Canon EOS500D digital SLR with a Canon 75-300 mm zoom lens mainly used at near it's maximum focal length (equivalent around 400 mm). I also used the high def video function on this camera (but reduced the size and frame rate significantly for web hosted movies).
Links to Other Web Sites
Classic Fighters Air Show (NZ). At Omaka Aerodrome, Blenheim, New Zealand.
Warbirds Down Under. A guide of Warbird and Classic Aircraft from New Zealand and Australia.
NZ Fighter Pilots' Museum. An amazing collection of airworthy World War II fighters in Wanaka, NZ.
RNZAF Museum Wigram, Christchurch. The National Museum of New Zealand Military Aviation.
Warbirds Over Wanaka. Official site of the Warbirds Over Wanaka Air Show.