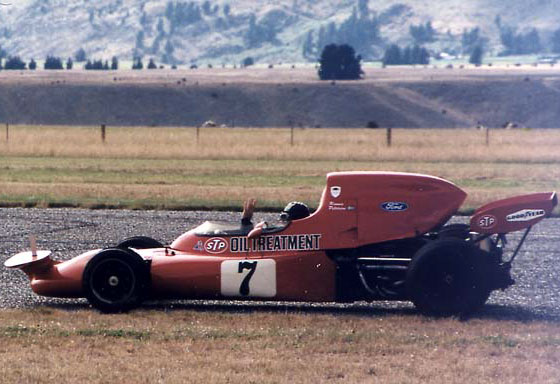 (Up to OJB's Warbirds 1996 Page)
The Formula 1 Racing Car
This car raced a racetruck, Pitts aircraft and Hughes 500 helicopter several times over the length of the runway. It was an interesting contest: the aircraft could turn at speed at the ends of the runway but the vehicles had to slow almost to a stop. The car definitely had phenomenal acceleration and seemed to win the contest convincingly although the race was somehwat chaotic! The car had an even more awesome engine sound than most of the aircraft!
The Car
The March 711/6 Formula 1 Grand Prix race car was built in 1971 by the UK manufacturer March Engineering. It weighs 550 kg and is powered by a 3 litre Cosworth engine-Ford DFV engine producing 450 bhp at 9500 rpm. It uses a 5 speed Hewland gearbox. The car is capable of 195 mph top speed and gained 24 championship points in the 1971 championship, including several second placings.
Use the controller below to hear the car.
The Truck
The truck is a Western Star 596 Z Superstar with an aluminium alloy chassis. It is powered by a Detroit Deisel 8V92TA 12.1 litre turbocharged aftercooled V8 2 cycle engine producing 1344 hp at 2800 rpm. Transmission is an Allison HT 754 CR 5 speed automatic with lock-up torque converter. Top speed is regulated at 160 kph (100 mph) due to racing regulations and it is capable of a standing 400 meters (approx quarter mile) in 12 seconds.
The Plane
No details available at present.
The Helicopter
The Hughes 500 is a single-engine helicopter. The fuselage is egg-shaped with large windows. A single turboshaft engine is housed aft of the cabin with the exhaust in the rear of the fuselage. A small assembly with a four-blade main rotor is mounted on the top of the rear fuselage. A two-blade tail rotor is mounted on the port side of the boom with an angled rectangular tailplane on the starboard side. Landing gear consists of two skids.
The Hughes 500 was first flown in 1963. Several versions of the helicopter were built, including several versions with different engines, military versions with different engines for attack, anti-submarine version and other purposes.
The overall length is 9.2 m and height is 2.6 m. Empty weight is 464 kg and maximum takeoff weight is 1223 kg. The main rotor diameter is 8 meters. The engine is an Allison 250-C18 producing 315 hp giving a maximum speed of 240 km/h and a climb rate of 9 m/s. The helicopter's ceiling is 6200 m and its range about 2600 km.
I hope this data is accurate. I am not sure which version of the aircraft this describes.

Comment on this page: Interesting • OK • Boring or: View Results