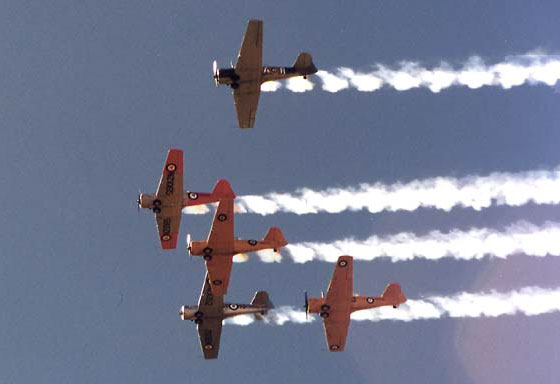 (Up to OJB's Warbirds 1996 Page)
The "Roaring 40s" Aerobatic Team
The AT6 Harvard isn't the greatest aerobatics aircraft in the world - it lacks a certain amount in the department of power, rate of climb and handling but the precision of this team make up for it as you can see from the photo.
North American AT6 Harvard
The North American T-6 Texan 2 seat training aircraft originated in 1935 and it was used by the British, and called the Harvard, as early as 1938. It was used as a trainer in the US from 1940 until 1945, and they were still being used for trainers in some countries up to the 1970s. Its estimated that the T-6 (Harvard) has trained more military pilots than any other aircraft in history. Around 17,000 were built and over 350 (a relatively large number for aircraft of this age) are still airworthy. Powered by one Pratt and Whitney R-1340 radial air cooled piston engine producing 600 hp. Wing span 42 ft, length 29 ft. Maximum speed 220 mph. Ceiling 21,500 feet. Range 750 miles. Empty weight 4,158 lbs, maximum takeoff weight 5,300 lbs.
Use the controller below to hear the Harvards.

Comment on this page: Interesting • OK • Boring or: View Results