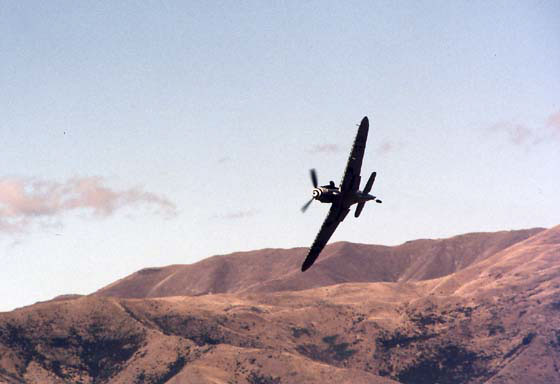 (Up to OJB's Warbirds 1996 Page)
The Me-109's final display
The Messerschmitt Bf. 109G-10 Gustav was one of the special guests at the show. It flew several displays during the day. This photo was taken on its last "farewell run" at the end of the day.
It is one of only two in the world. The Me-109 was upgraded many times during the war, the latest model was the G-14 produced in May 1945. The G-10 was one of the better variants and as good was as any other aircraft in the war when used to its strengths.
This model has the 1475 hp DB605D inverted supercharged V-12 Daimler Benz engine and has cabin pressurisation, important when repelling high altitude bombing attacks. The G-10 is capable of 426 mph at 24,000 feet and has a service ceiling of 41,000 feet. It has one 30mm cannon and two 13mm machine guns in the nose.
Use the controller below to hear the Me-109.

Comment on this page: Interesting • OK • Boring or: View Results