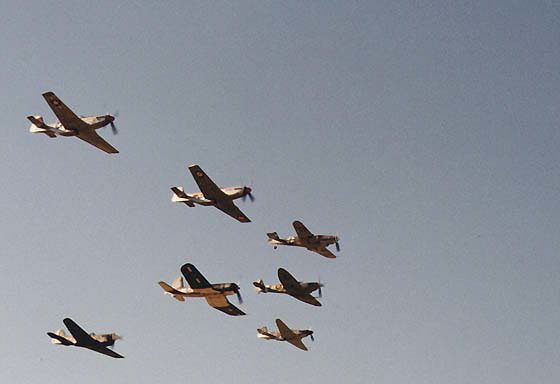 (Up to OJB's Warbirds 1996 Page)
The "Heavy Metal" display
A parade of some of the historic fighters flying individually and in formation with two Mustangs and Spitfires, a Corsair, a Kittyhawk, a Yak-3M and the Messerschmitt Bf. 109G-10.
The statistics for the aircraft include the following...
Vought F4U-1 Corsair
American single seater fighter. Powered by one Pratt and Whitney R2800.8W Double Wasp radial engine producing 2000 hp. Wing span 40 ft 11 in, length 32 ft 9 in, height 15 ft. Maximum speed 392 mph at 24,000 feet, cruising speed 185 mph. Armament six half inch machine guns mounted on the wings. Eventually over 12000 were buily and about 30 are still airworthy. It began development in 1938 and was first flown on 29 May 1940, after revisions a production version was delivered on 31 July 1942. A variant, modified for carrier use, was called the F4U-1A. The distinctive bent wing design was necessary to accomodate the landing gear and huge propeller.
Curtiss P-40K Kittyhawk
American single seater fighter-bomber. Powered by one Allison V1710-99 V12 engine. Wing span 37 ft 3 in, length 33 ft 4 in, height 12 ft 4 in. Weight (tare) 6000 lbs. Maximum speed 378 mph, range 240 miles, ceiling 38,000 feet.
North American P-51D Mustang
American single seater WWII fighter. Powered by one Packard V-1650-7 Merlin V12 engine producing 1590 hp. Wing span 37 feet, length 32 ft 3 in, height 13 ft 8 in. Maximum speed 437 mph at 25,000 feet, range 1650 miles (with drop tanks).
Supermarine Spitfire Mk XVI
British single seater WWII fighter and light bomber. Powered by one Packard Merlin 266 engine producing 1580 hp. Wing span 36 ft 10 in, length 31 ft 1 in, height 12ft 7 in, weight 7500 lbs. Maximum speed 416 mph, range 430 miles. The last mission a Spitfire flew was in 1954 when a PR.Mk 19 flew a reconnaisance mission in Malaya. The last Seafire mission was in 1967, so the Spitfire design certainly stood the test of time. First flown on 5 March 1936, operational in July 1938 and squadrons were available by the start of World War II. Because of its success it was used in many different areas of the world and updated many times. In total over 20,000 Spitfires and 2,600 Seafires were built and there are about 50 still airworthy.
Messerschmitt Bf. 109G-10 Gustav
German single seater WWII fighter. Powered by one DB605D inverted supercharged V-12 Daimler Benz engine producing 1475 hp. Maximum speed 426 mph at 24,000 feet, ceiling 41,000 feet. Armament two 13mm MG131 machine guns and three 20mm MG151 cannons. The first production model, the Bf 109-1 was delivered in 1937 and there were more than 1000 in swervice by the beginning of World War II. When it was introduced, it incorporated some of the most advanced designs including: retractable landing gear, an enclosed cockpit, automatic flaps, cantilever wings, and stressed skin construction. It was still being produced by Spain as late as 1958. In total about 35,000 were built, but only about 10 are still airworthy.
Yakovlev Yak 3M
Russian single seater fighter. Powered by one V1710-1F V12 engine producing 1325 hp. Wing span 30 ft 2 in, length 27 ft 10 in, height 7 ft 11 in. Maximum speed 367 mph at sea level, 407 mph at 10,000 feet.

Comment on this page: Interesting • OK • Boring or: View Results