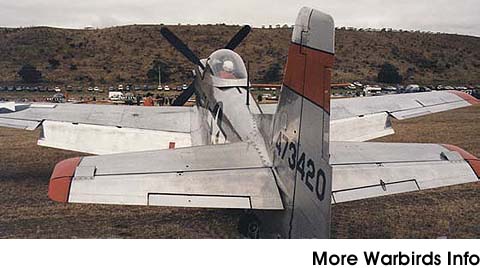 (Go to OJB's Photography Page) (Up to OJB's Warbirds 1996 Page)
Warbirds Over Wanaka Airshow, 1996
The air show is held every two years at the Wanaka airport, a small airfield surrounded by the magnificent rugged scenery of Central Otago. Snow capped mountains rise from all sides of the long valley containing the airport and there is even a convenient large gully nearby, where the river runs through, where aircraft can conveniently fly to hide from the crowds - very useful to conveniently dispose of "shot down" aircraft during mock battles!
The main air show runs for two days and usually attracts large crowds - about 65,000 attended this year. People with an interest in historic aircaft come from over the world to see the show. An informative commentary by some of the world's leading airshow commentators runs during the entire day.
The Alpine Fighter Collection
The Alpine Fighter Collection now includes the following impressive array of historic aircraft: Spitfire, Mustang, Kittyhawk, Corsair, Avenger, Yak, Polikarpov, Nakajima, Hayabusa, Zero replica, Messerschmitt 109 and 110, Focke Wulf 190, Ju 87 Stuka, three de Havillands, Avro 504K and a Yak-50.
Restoration is currently proceeding on the following: Me 109-E, Focke Wulf 190-A8, Polikarpov I-16 monoplane, Polikarpov I-153 bi-plane and Avro 504-K. Restoration of the following has yet to be started: two Me-110 fighter-bombers and two Junkers Ju-87 Stuka dive bombers.
Most of these aircraft are beautifully restored and in full working condition, a real tribute to the work done by the organisation with the lead of Sir Tim Wallis and especially impressive for such an obscure town in a small country like New Zealand!
The Photos
I took the photographs at the "Warbirds over Wanaka" airshow which was held on April 6 and 7, 1996 at the small New Zealand town of Wanaka. The Warbirds show is primarily intended to show off the locally housed World War II "Alpine Fighter Collection" but other fighters, both older and newer, current air force aircraft and various civil aircraft are also included.
I used a Canon EOS-5 camera with a 28-200 mm zoom lens (set to its maximum focal length most of the time). The film was Fuji 400 asa print film which provided good speed on fast moving subjects but also gives surprisingly good detail and freedom from grain - film technology has definitely improved since faster films first became available.