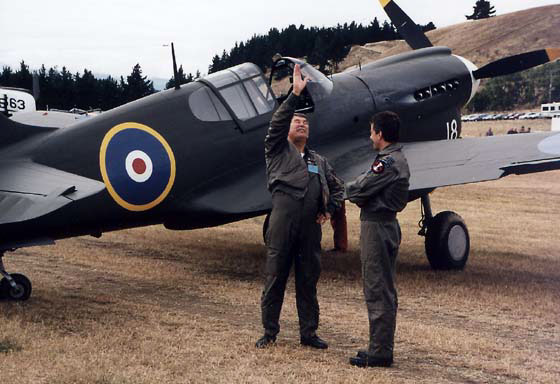 (Up to OJB's Warbirds 1996 Page)
Pilots, "Yes, That's the Best Direction to Go!"
Most of the aircraft were parked in an area where it was possible to examine them up close. This photo catches a couple of pilots discussing their flying exploits in front of a parked Kittyhawk.
The Kittyhawk was first used in 1941, and was widely used during the rest of World War II. unfortunately it suffered from lack of power, climb rate, and speed. It was better suited as a ground attack aircraft because of its good low level maneuverability and general strength.
Here's the specis for the Curtiss P-40 E Kittyhawk. Engine: one Allison V-1710 producing 1150 hp. Length: 31' 9" (9.68 m), height: 12' 4" (3.76 m), wingspan: 37' 4" (11.38 m). Gross weight: 9100 lbs. armament: six .50 calibre machine guns. Maximum speed: 362 mph (582 km/h), cruising speed: 235 mph (378 km/h), ceiling: 30,000 ft (9200 m), range: 850 miles (1368 km).
Some other interesting aircraft being displayed and flown: Messerschmitt 108, T-28 Trojan, A37 Dragonfly jet, Grumman Albatross, Catalina flying boat, Dakota, Beech 18 Staggerwing, Nanchang, De Havilland DH82A Tiger Moths and Fox Moth, Antonov AN-2, a Scout helicopter and many others.

Comment on this page: Interesting • OK • Boring or: View Results