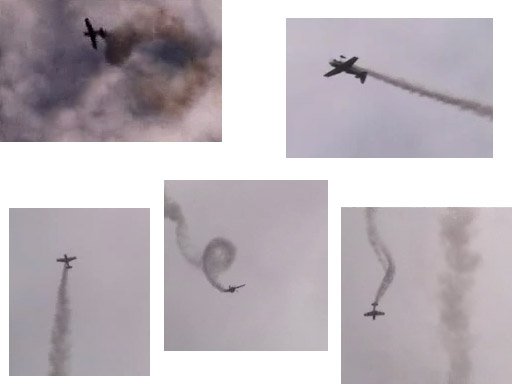 Movie (Up to OJB's Warbirds 2000 Page)
Edge 540
The tiny Edge 540 aerobatics aircraft is capable of extraordinary performance. AIthough it only weighs 1200 lbs it has a 8.75 litre 350 hp Lycoming I0-540 engine enabling aerobatics at about 200 knots. The air frame can withstand forces of plus or minus 23 g!
Here's some specs for the Edge: Fully composite EDGE wing, Lycoming IO-540 producing 327+ HP, Hartzell Aerobatic 3-blade composite propeller, Inverted fuel and oil system, roll rate: 420 degrees per second, climb rate: 3,700 ft/min, do not exceed speed 265 mph, stall speed 58 mph, empty weight: 1155 lbs, maximum gross weight (aerobatic): 1550 lbs, fuel capacity (fuselage tank): 19 gallons, fuel capacity (wing tank): 44 gallons, wingspan: 24.4 feet, length: 20.7 feet, price for base model US$231,655!
The steel tube fuselage can handles sustained loads of 15 Gs, The E540 has the highest aerobatic thrust to weight ratio of any competition aerobatic aircraft available (at the time I created this page, anyway).