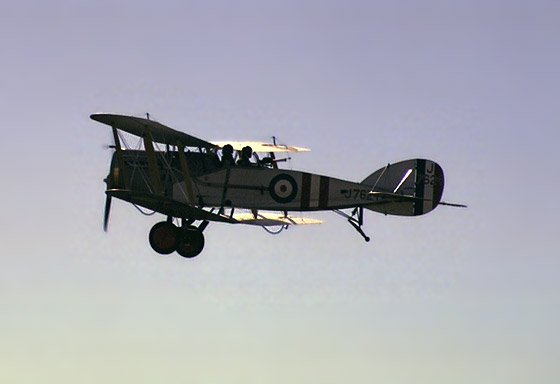 (Up to OJB's Warbirds 2004 Page)
World War 1
This photo shows the Bristol F2b Fighter with the distinctive feature of the rear-facing gunner. It was used as a fighter and light bomber from 1917 to 1932.
Other World War 1 era aircraft included replicas of the famous Fokker Dr. 1 Triplane and Sopwith Camel, which were joined by another, less well known aircraft of the era, the Avro 504K. The Camel and Triplane were the most famous fighters used in World War 1. The Avro was originally a light bomber but it wasn't very successful and was relegated to use as a trainer.
These old aircraft were replicas, of course, because no original examples still exist and the construction methods and glues used don't make them particularly long lasting anyway. The Fokker Dr.1, Camel, and F2b are from the Omaka Fighter Collection, and can be seen at Classic Fighters 2005.
More Photos