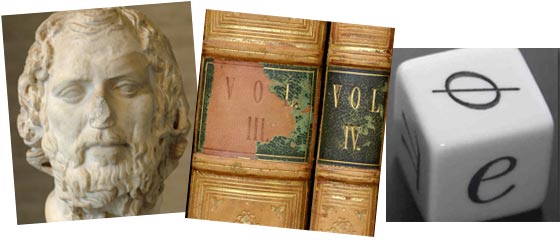 Add a Comment (Go Up to OJB's Blog Page)
Real Economics
Entry 1067, on 2009-08-04 at 20:19:56 (Rating 3, Comments)
I have just listened to a fascinating podcast interview with Joseph Heath, an economics professor who has just written a book explaining why economics isn't just an organised collection of right wing ideology. He says economics contradicts deeply held beliefs from both sides of the political spectrum and he listed some of the assumptions which he thinks economics does contradict.

He started off by saying that virtually all commonly held beliefs about economics are wrong. I must admit that a lot of what I had assumed about economics was contradicted by what he said. Maybe the problem we have is that most of the economists we hear from work for vested interests like banks, unions, or political parties, because what Heath said was far more logical than what I had heard before from these sources.

The interviewer commented that the old argument between left and right has got nowhere. So if economics is a valid social science why hasn't it produced answers to settle this argument? It seems the answer is that neither the left nor the right base their arguments on real economics. The right in particular seems to be suffering from a huge range of fallacious beliefs.

So what are some of these fallacies? The first one is that capitalism is natural. This is not really true. Capitalism is a social system invented by people just like everything else. It follows that government interference is not unnatural. To demonstrate his point he quotes the experience in post transition Soviet countries. They consulted with western institutions on how to establish a market driven system and were told to remove government controls and one would arise naturally. That didn't happen though (or at least not in the way they wanted). What happened instead is a crime based economy arose because the controls weren't in place to allow a western style market to flourish.

In fact a Western style market is a finely tuned creation which took hundreds of years to establish. A well controlled market is a difficult thing to create. It took hundreds of years to happen in the West. So markets are really highly unnatural. It seems that any right winger calling for the removal of controls is just asking for disaster!

The future social and economic direction of most of the world has diverged into a system involving a regulated capitalist system and a moderate social democracy. This is accepted by practically everyone except extremists like Islamic fundamentalists.

Another fallacy is that more competition is better. Maths models prove that a perfectly competitive market is perfectly efficient, but a second result shows that if all the conditions for this perfection are not satisfied then many other conditions must be violated to make it work moderately well. So a perfect system cannot be created and trying to create one just results in something worse than if you hadn't made the attempt.

The next fallacy is that markets are always better. This is just not true. There is no generic proof that markets are best. Its necessary to look at every situation on a case by case basis. Sometimes a free market will work well and in other cases a more cooperative model will be superior.

What about tax? The idea that taxes are too high is common amongst the right. They say its better to give people the money to spend because government does it badly. This isn't true in most cases. The Idea that the private sector produces wealth and the government spends it is also not true. Governments create wealth in the same way as private companies, they just use a different way to organise the transactions.

Finally there is the fallacy that incentives matter. This is not always true. At the simple level there is the economic assumption that people will always act out of self interest and to maximise profit, but the real world is far more complex. When this is understood many market driven approaches fall apart.

So really just about everything the right bases its beliefs on isn't true. Libertarian beliefs in particular are revealed to be deeply flawed and really just based on a very naive and simplistic interpretation of what economics really says. But what about the left? What do they get wrong?

The first left wing fallacy is the "just price fallacy". That is the idea that you can help someone who can't afford an essential service or product, like accommodation, by reducing the price of that requirement. There is good economic evidence to indicate that the underlying problem is with insufficient income, not inflated prices.

The biggest left wing fallacy (and one I am guilty of on occasions) is that the pursuit of profit is the only thing which drives the private sector and is the basic cause of all bad behaviour there. Of course that's an oversimplification and not always true because some public organisations also exhibit greedy, immoral or unfair behaviour.

So it seems that I am also guilty of simplifying the facts on occasions. The profit motive is not the only cause of bad behaviour and private ownership is not always a bad thing. Having said that though I should add that I don't think I have ever advocated anything as simple as that anyway.

Its my opponents (you know who you are) who present the simplistic answers: the market is always right, competition always improves the outcome for everyone, lower taxes are always better, the government is inefficient, etc. All wrong!

I'm not sure how widely accepted Heath's ideas are amongst other economists but I have to say that everything he said seemed to be based on real facts and an impartial view of how economies should work. After hearing this interview I feel sort of bad about dissing economists in the past!

There are no comments for this entry.

You can leave comments about this entry using this form.
To add a comment: enter a name and email (both optional), type the number shown above, enter a comment, then click Add.
Note that you can leave the name blank if you want to remain anonymous.
Enter your email address to receive notifications of replies and updates to this entry.
The comment should appear immediately because the authorisation system is currently inactive.