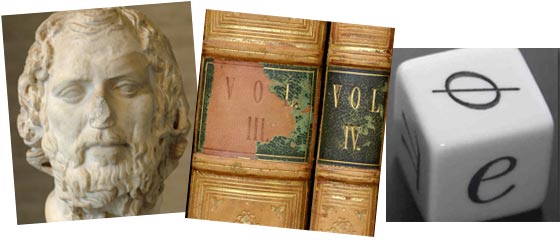 Add a Comment (Go Up to OJB's Blog Page)
Should I Give Up?
Entry 1235, on 2010-10-19 at 21:43:21 (Rating 4, Comments)
A recent theme of my posts seems to be surrender, or when to give up a belief. This time I am wondering when it's appropriate to give up a debate with someone who is clearly so dedicated to a particular ideology that the facts, no matter how clear, have no effect on him at all. Actually I'm thinking of two separate debates here but the more immediate one which lead to this entry was with a right wing nutter. Another long-term debate with a fundamentalist Christian nutter belongs in the same category I guess, but that has been inactive recently so the immediacy isn't there.

In reality debating with these people probably is a waste of time. Their debating technique is so poor that they have to look up the meaning of various logical fallacies before they even comment on them. If someone hasn't even heard of a straw man fallacy (for example) then how can they be aware of the fact that it isn't considered a valid way to make a point?

The other error these people often make is to ignore their opposition. The right winger constantly repeats conservative catch phrases which might be supported by others with the same general political opinions as him but just makes him look nutty to anyone who looks at his claims objectively.

Here's an example of the debate I'm involved with. He says: "the right makes the place tick economically - then the left comes along and blows everything". I counter by quoting statistics which show common economic indicators don't show any strong correlation with the type of government in power. He ignores my comment and changes the subject. And so his delusion is maintained. If someone wants to be ignorant and deliberately ignores the facts just to maintain his ideology then there really is no hope, is there?

So should I give up debating with this person? I suppose I really should but I still find it interesting and it does help me understand the ridiculous mindset the far right crazies actually follow.

In fact that reminds me of another part of this person's delusion. Although he constantly distributes right wing propaganda he claims that he's actually centrist. So I challenged him to take a political quiz to establish where he stands on the spectrum. He did that but then claimed (without giving me the results) that the survey was a childish and invalid way to decide anything. So I found another one which had some academic backing. He did it and came back saying he got a score of exactly center. But I asked him to answer some questions from that quiz and then plugged those in which lead to a result of him being extreme right! What's going on there? Is he lying to me or to himself? It's always so hard to tell with that sort of person.

So again I ask, should I give up on him? Probably. But what about the creationist...

Oddly enough the creationist in some ways is actually more convincing than the right winger (Although the creationist is also a conservative and I'm sure his political views are also crazy. But I haven't debated him on those much - except for global warming - but I really shouldn't start on that now!)

Creationists often use slightly different tactics than the political right do. Sure they share a lot of the standard logical fallacies: the ad hominem, the straw man, poisoning the well, all the old classics, but they do use one more often than the others. They find one small factoid amongst a mass of data and pretend that overrides the mass of data which disagrees with them. For example, they will find a quote from a scientist which seems to dismiss evolution but conveniently ignore thousands of quotes which support it. And as soon as you point out the mass of opposition to their ideas they resort to the classic strategy for all those who have crazy beliefs: the conspiracy theory!

Yes, the good old conspiracy theory is a hard one to argue against because the weaker the evidence is for the conspiracy the stronger the conspiracy gets. After all, the first thing the conspirators want to do is destroy all the evidence which reveals that the conspiracy exists. So the more that evidence is lacking the more successful the conspiracy has been! It's a brilliant strategy because it's totally impossible to refute (as long as you use the illogical arguments of the nutters and ignore common sense and the principles of reasoned debate established thousands of years ago).

So should I give up on the creationist as well? Of course I should, but I'm not going to because, although I know it's a debate I will never win, it's still sort of fun and you never know what sort of outrageous nonsense your opponents will come up with next. Sometimes they resort to techniques which are even more crazy than what I've seen before and that really makes the whole thing worthwhile!

There are no comments for this entry.

You can leave comments about this entry using this form.
To add a comment: enter a name and email (both optional), type the number shown above, enter a comment, then click Add.
Note that you can leave the name blank if you want to remain anonymous.
Enter your email address to receive notifications of replies and updates to this entry.
The comment should appear immediately because the authorisation system is currently inactive.