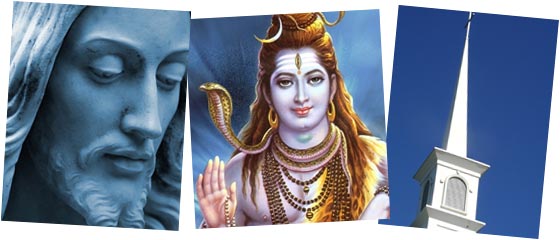 Add a Comment (Go Up to OJB's Blog Page)
Christian Arrogance
Entry 1260, on 2011-01-10 at 12:36:35 (Rating 4, Religion)
I don't have a lot of respect for religious people at any time because I think they have taken the easy way out. Either they are too lazy to check the facts and see that there is no basis for their religion, or they have been propagandised by their church and are too lazy to break free, or they want a simple and pleasant world view and are too lazy to seek the truth instead. All of that is bad enough, but something which makes it a lot worse is when they get arrogant as well.

An example was a headline which attracted my attention in our local paper. The headline was "Only Christian Faith Satisfies the Spiritual Thirst". Wow, how arrogant is that? Assuming the "spiritual thirst" is a need many people have to believe in the supernatural it's still doubtful since more believers follow other religions than those who follow Christianity. And if you extend the term to mean a wider meaning, such as the non-supernatural spiritual beliefs atheists have, it's even worse!

Not surprisingly, the article was written by an elder in a local church - some clown by the name of Ivan Grindlay. I wonder how many other sources of inspiration he has seriously tried apart from Christianity? I would be prepared to guess the answer is zero, because most Christians aren't only incredibly ignorant of the true origins of their own beliefs, they are also ignorant of all the others as well. I guess that's why they go with that wonderful faith of theirs: it's all that's left when they have no facts.

So what does he actually say? He starts with some pitiful attempt at establishing the existence of a designer. It's the old "we see design everywhere so there must be a designer" argument. The fact is that natural selection is a process which provides apparent design without a designer. Anyone with the slightest interest in the subject should know that, but there's no mention of it here.

Then there's some new age drivel along the lines of "humans have a latent awareness of the unseen". Sure, they are aware of UFOs, the Loch Ness monster, hundreds of different gods, and fairies at the bottom of their gardens. This is a good thing how exactly?

Next there's the old standard Christian sales pitch about Christ offering his life so that the rest of us can have eternal life in heaven, or something of that sort. I never did figure out what Christ has really done for us. Before Christ we had wars, disease, death, torture, evil, crime, and suffering, and after Christ we had wars, disease, death, torture, evil, crime, and suffering. Exactly how are we better off?

It seems to be that if you really want to point out some improvements in people's lives you would be better to look at the before and after scenario for science. The same science the church rejected and fought against for so long. Christianity just seemed to bring more of the same: religious wars, the inquisition, witch burnings, the Crusades. Gee, thanks Jesus. That was so helpful!

Next our writer uses the oldest trick in the book. It's the old "if in doubt sound confident" trick. He claims that the hope given by Christ's death is certain and has been confirmed over time despite the misgivings of skeptics. It's like the drivel about "sure and certain eternal life" in Christian funeral services. Sure *and* certain? I'm convinced!

Then there's an example of the common confusion between confidence and faith. He suggests people demonstrate faith every day because when they switch on a light they expect it to work and it does. But that's more confidence based on past experience than religious faith. True faith would be more like we switch on a light and nothing ever happens but we still think something will happen next time because the electric company says it will if we just believe in them enough! Oh, and the electric company has no power generation facilities, just a public relations department!

I really can't go on. It just gets worse and worse. There's junk about prayer not being answered because people have no relationship with god. Why devout believers' prayers also aren't answered is left to the reader to figure out.

So there's just nothing there. Christianity is empty of all meaning. It gives no real hope but keeps the cowardly happy through false belief. What a travesty it really is. I could almost pretend it wasn't so bad if its followers weren't so damn arrogant!

Comment 1 (2852) by Anonymous on 2011-01-17 at 10:27:36:

I just want to say I support what you said. Christians are OK as long as the keep their beliefs to themselves and it's just when they start pushing them onto other people that I get annoyed. People should be free to believe what they want and all beliefs are as good as each other.

Comment 2 (2853) by OJB on 2011-01-17 at 17:07:31:

Well, yes, I agree with a lot of that. Except... "all beliefs are as good as each other". Really? Is that some sort of relativist philosophy sneaking in? I don't personally think that is true. You might say that all personal, subjective, philosophies are right for the person who believes them, but I don't think you can say that all beliefs have equal real, objective meaning.

If that was true then believing the universe is a flat Earth supported on the back of elephants balanced on a tortoise would be as good as the detailed scientific theories based on real observations. Surely you can't believe that!

Comment 3 (2907) by Michael on 2011-06-10 at 22:28:08:

Clearly this is just fueled by some bad experience with a Christian, and is horribly over generalized. You'd be surprised how many Christians actually came to being Christian because they were searching for the truth, not the other way around. "Christianity is the true faith" - yes it is arrogant, but its what they believe and its what the bible says too. Its better than "Kill all non-believers"(Islam) I've read a lot of the Koran. "Christianity is empty of all meaning. It gives no real hope but keeps the cowardly happy through false belief. What a travesty it really is." - I'm going to assume you think this of all religions too? Also some believe happyness is the goal of life, so if we were to remove their religion which was keeping them happy that would then make them unhappy and that is surely worse for society! Also as a last point I agree at least that there are a lot of ignorant Christians out there and yes that annoys me too. This isn't complete but I really have better things to do. Have a good day!

Comment 4 (2909) by OJB on 2011-06-11 at 04:27:00:

I can't think of any specific incident which might have fueled my dislike for belief in superstition. The fact that Christians claim to be seeking the truth is irrelevant. Most believers in superstition say that. If they were looking for it then I'm afraid they are deluding themselves if they think they've found it!

The false hope thing is common to many religions because that is one major attribute of this sort of belief. I only criticised Christianity in this case because that's the religion the person was writing about. If some Islamic cleric had said the only real hope is Islam I would have attacked him equally.

I think some people do gain happiness from religion and some the opposite. I agree that, like everything, religion does have some positive effects. I just think the negatives outweigh the positives.

You can leave comments about this entry using this form.
To add a comment: enter a name and email (both optional), type the number shown above, enter a comment, then click Add.
Note that you can leave the name blank if you want to remain anonymous.
Enter your email address to receive notifications of replies and updates to this entry.
The comment should appear immediately because the authorisation system is currently inactive.