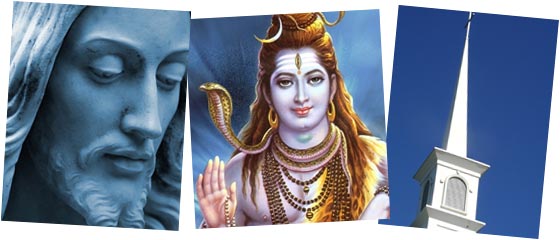 Add a Comment (Go Up to OJB's Blog Page)
The Meaning of Easter
Entry 1781, on 2016-03-29 at 21:31:03 (Rating 5, Religion)
For God so loved the world that he gave his one and only Son, that whoever believes in him shall not perish but have eternal life (John 3:16, New International Version).

This is possibly the most well known verse in the Bible and many would suggest the central message of Christianity. It is also particularly relevant during Easter, of course, since that is when the sacrifice described by John supposedly happened.

Clearly how much importance you attach to these words will depend on your perspective on the Christian religion. Those who take it seriously will probably find the idea both inspirational and highly relevant. Others might find it inconsequential or even bizarre.

Let's have a quick look at what this is all about...

Supposedly the only way God could solve the problems the world was experiencing (mainly to do with sin, but more on that later) at the time was to send his son, who was in some way both a man and a god, to a primitive and isolated part of the world so that he could spread the message of how to make things better.

And in addition to that God's son had to be sacrificed in order for this new way of thinking (which in fact wasn't new and had been discussed by philosophers for years) to become possible. The people who were being saved had to submit to God's will by accepting his Son as their source of guidance, and if they didn't they were likely to be punished horribly.

To complicate matters God's son didn't write down any of his ideas and no one else around him bothered to either, so there are various versions of what his real intent was.

Then, just to make things worse still, most interpretations of the new message were quite different than the existing one, and about 600 years after all this happened a lot of people think he changed his mind again and sent another messenger down (who really was going to be the last one, this time).

Finally, to add insult to injury, the followers of all God's various messengers have caused unmatched death, misery, and destruction over the entire planet in a presumably misguided effort to follow their god's wishes.

At this point you might wonder about whether God really knew what he was doing. This really doesn't sound like the way a competent omnipotent being woud operate. And it doesn't sound like things overall were much better after the sacrifice described in John 3:16 than they were before. In fact, you would really have to wonder, what was the point of it all?

But according to many commentators the world is gradually getting better. It is more peaceful, people live longer, they are happier and more free, and they are more healthy. Is this because of the sacrifice? Well, no, probably not. In fact, many of the worst aspects of the modern world are as a result of people still misinterpreting (presumably) God's messengers (mainly the more recent one this time) and the real improvements have only happened through ignoring religion and following rationality, and especially the scientific method.

So despite the reverence with which this verse - and the message it imparts - is held by believers it is really more a condemnation of God's incompetence to many. Maybe a better message would be this: For God was so incompetent that we would all be better off to ignore his inept bungling and just get on with improving the world ourselves!

There are no comments for this entry.

You can leave comments about this entry using this form.
To add a comment: enter a name and email (both optional), type the number shown above, enter a comment, then click Add.
Note that you can leave the name blank if you want to remain anonymous.
Enter your email address to receive notifications of replies and updates to this entry.
The comment should appear immediately because the authorisation system is currently inactive.