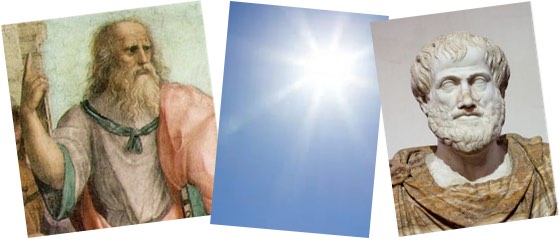 Add a Comment (Go Up to OJB's Blog Page)
What I Believe
Entry 1829, on 2016-12-27 at 15:49:40 (Rating 3, Philosophy)
Just to show what a sad and annoying person I am, I have to admit to the following... On Christmas Day, between opening presents, watching bad movies, chatting with family, and drinking lots of wine, I was involved with a rather protracted and involved discussion on Christianity. Yeah a discussion (or should I say argument) about religion... on Christmas... seems perfectly appropriate to me!

The people I was debating with really had nothing. It was stuff like: believe in Christianity because it says so in the Bible. But that isn't the subject of this post. During the discussion I was asked what I believe, and I realised that I have never really said what that is in a precise, compact form. So, without further preamble, here it is...

First, I want to know what's true. I totally understand what solipsism is all about, and ultimately I agree that we can never know anything for certain. The whole universe, my total existence, and all the other people I know could all be an illusion. After all, many people with schizophrenia imagine they live in a world which, to me, seems delusional. And I could say something similar, to a lesser degree, regarding some people's religious beliefs, but more of that later!

So it is more a convenience than a firm philosophical commitment when I say that I think an absolute reality exists. If it doesn't then I really can't see a lot of point in trying to understand anything.

The next question is, can we ever know what this reality is? Well no. I don't think we can ever truly know if any understanding we have is ultimately correct. But I do think we can get very good approximations with a high degree of confidence regarding our theories of reality.

So how should we establish what these best explanations are? Basically, we should use the scientific method. That is, we find a way to test whether theories are right or wrong using objective, repeatable, and neutral experiments and observations.

Since there is always uncertainty I have an arbitrary point where I accept someting as true (at least in the interim). That point is is at a fairly high level. I would prefer to think that something is false when it later turns out to be true, than to accept something as true and then find it wasn't. Believing something which is untrue leads to too many consequences which I cannot accept.

So that covers the more mechanical aspects of my philosophy, now what about the more tenuous concepts such as morality? I guess basically I am a utilitarian. I think we should aim for the greatest good for the greatest number. But it is well known that simple utilitarianism breaks down in many situations (the famous trolley problems demonstrate this quite well) so it can't be that simple.

But humans are a social species and we have evolved a strong sense of empathy. This is both a biological and a social phenomenon and it changes over time. There seems to be clear evidence that human society is getting better. Steven Pinker has demonstrated this quite convincingly in his book "The Better Angels of Our Nature" and I think it is clear that, despite the very real problems we face today, that human society is less violent, more tolerant, and more fair than in the past.

So when the majority of humans have an "inner feeling" for what is right and wrong I think we should take notice of that. This means that morality isn't absolute and there is no inherent right and wrong, but I'm OK with that.

So that's the physical and social worlds taken care of. What about the spiritual or supernatural world? Well, my thoughts on that depend on your definitions of the words. I can say that every atheist I know claims to have a spiritual aspect to their life without believing in the supernatural. So I think my connection with the beauty of music, art, and just the grandeur of the real universe is at least as significant as any religious person's connection with their (imagined) god.

Of course, it is difficult to prove this using the science I have recommended above, so this is a conjecture on my part more than a statement of fact. However I feel I am missing nothing when a religious person says they "feel sorry" for me because I don't have a connection with their particular god. I have a connection with the real universe, which I think is far more impressive.

And I totally reject the existence of the supernatural. This is more a matter of definition than anything else. If there was a god, for example, which interacted with the real world, then I would claim that is really just another part of the natural universe and could be studied by science. If that god lived in another "dimension" and never interacted with our universe then I say it doesn't exist. I'm not saying that as an approximation, I'm saying it literally doesn't exist.

Finally, I do use a few shortcuts when discussing aspects of the world using my philosophy. I say certain things are "facts" for example, such as evolution and the Big Bang. But I'm not trying to say those phenomena are true beyond any possible doubt. There is always room for doubt (see my first few points above) but the certainty is sufficient that using the word "fact" is a fair shortcut instead of having to say "99.9% certainty".

Also, there is "no doubt" (again there is some doubt, but such a small amount that ignoring it is fair) that evolutionary processes happened, and that something started our universe 13.7 billion years ago, but the exact details of what really happened are not yet known. So the fact of evolution happening and the theory explaining how it happened are two very different things.

Finally I should use the philosophical points I have outlined above to answer the "god question". Is there a god? Well, I cannot see any good reason to think so. The closest thing to actual evidence I think is the apparent fine-tuning of the universe. But even that doesn't help much because if we accept the universe has been fine-tuned by a god that just pushes the question back to where did that fine-tuned god come from?

And as far as the big religions are concerned I find them ridiculously non-compelling. I'm confident of one thing: if there is a god it bears absolutely no resemblance at all to the vile, homicidal megalomaniac described by the Abrahamic religions! And the other religions, such as Hinduism, also seem to be using human attributes to create gods with varying levels of appeal.

So if gods don't seem too credible, what about prophets, such as Jesus? Well, I go around in circles on Jesus a bit. Sometimes I think he didn't even exist and others I think a person with some of his described attributes might have been the basis of the legend.

But let's use my points from above to examine the Jesus myth. Are there any physical elements which we could check against facts? Well yes, there are. There are several events described in the Gospels which we could check, such as the star described (in just one Gospel) at the birth, the darkness at the crucifixion, not to mention the saints rising from their graves at that time.

There should be obvious historical references to these, but there's nothing. Not a thing. And that's just the beginning. There are ridiculous inconsistencies in the different portrayals of his alleged life. And those are just between the four gospels arbitrarily chosen as canon by the early church. If you look at the other alternatives they conveniently ignored then the situation is much worse.

So really, no sensible, honest, knowledgeable person can possibly take the Christian story seriously as a statement of fact. So why do so many, quite intelligent people do that? Well it's simple self-delusion in most cases. These aren't bad, or ignorant, or corrupt people in most cases, they have simply fooled themselves.

Finally, what about the philosophical and moral messages of Christianity? Well I freely admit there are some good, positive moral stories in the New Testament. But there are a lot of really horrible stories too. And there is a lot of good, positive philosophy in many other sources. So my conclusion is that we should use the Bible, along with every other source we can find, to guide us on our path to establishing our own personal morality.

In fact, I think that is what everyone does anyway. Even people who say their morality comes from a god, or a holy text, or a prophet are really fooling themselves. Their morality comes from themselves because it is they who decide which god, which holy book, or which prophet to follow. And it is they who decide how to interpret those sources. In the end, their morality is no more objective, absolute, or inspired than mine.

Well I think I've said enough at this point because this post is already longer than what I usually try to write. If anyone can see an error in my logic please comment. I'm more than happy to correct any errors I have made in either fact or logic.

Comment 1 (4647) by OJB on 2016-12-27 at 16:03:09:

Actually I just noticed that this mainly deals with *why* I believe rather than *what* I believe (apart from the God/Jesus stuff). Maybe I need a follow up!

You can leave comments about this entry using this form.
To add a comment: enter a name and email (both optional), type the number shown above, enter a comment, then click Add.
Note that you can leave the name blank if you want to remain anonymous.
Enter your email address to receive notifications of replies and updates to this entry.
The comment should appear immediately because the authorisation system is currently inactive.