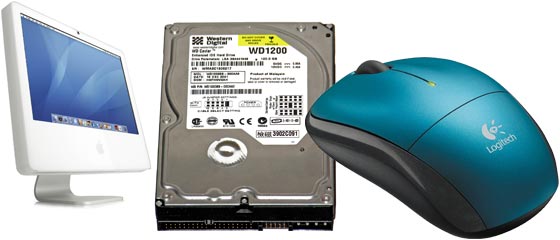 Add a Comment (Go Up to OJB's Blog Page)
Are You Getting It?
Entry 1831, on 2017-01-10 at 21:33:00 (Rating 2, Computers)
Ten years ago Apple introduced one of the most important devices in the history of technology. It has changed many people's lives more than almost anything else, and nothing has really supplanted it in the years since then. Obviously I'm talking about the iPhone, but you already knew that.

Like every new Apple product, this wasn't the first attempt at creating this type of device, it didn't have the best technical specifications, and it didn't sell at a particularly good price. In fact, looking at the device superficially many people (the CTO of RIM included) thought it should have immediately failed.

I got an iPhone when Apple introduced the first revision, the iPhone 3G, and it replaced my Sony phone, which was the best available when I bought it. The Sony phone had a flip screen, plus a smaller screen on the outside of the case, a conventional phone keypad, a rotating camera, and an incredibly impressive list of functions including email and web browsing.

In fact the feature list of the Sony phone was much more substantial than the early iPhones. But the difference was the iPhone's features were something you could use where the Sony's existed in theory but were so awkward, slow, and unintuitive than I never actually used them.

And that is a theme which has been repeated with all of Apple's devices which revolutionised a particular product category (Apple II, Mac, iPod, iPhone, iPad). Looking at the feature list, specs, and price compared with competitors, none of these products should have succeeded.

But they did. Why? Well I'm going to say something here which is very Apple-ish and sounds like a marketing catch-phrase rather than a statement of fact or opinion, so prepare yourself. It is because Apple creates experiences, not products.

OK, sorry about that, but I can explain that phrase. The Sony versus iPhone situation I described above is a perfect example. Looking at the specs and features the Sony would have won most comparisons, but the ultimate purpose for a consumer device is to be used. Do the comparison again, but this time with how those specs and features affect the user and the iPhone wins easily.

And it was the same with the other products I mentioned above. Before the Mac, computers were too hard to use. The Mac couldn't do much initially, but what it could do was so much more easily accessible than with PCs. The iPod was very expensive considering its capacity and list of functions, but it was much easier to use and manage than other MP3 players. And the iPad had a limited feature list, but its operating system was highly customised to creating an intuitive touch interface for the user.

When Steve Jobs introduced the iPhone 10 years ago he teased the audience like this: "[We are introducing] an iPod, a phone and an Internet communicator. An iPod, a phone - are you getting it? These are not separate devices. This is one device. And we are calling it iPhone."

Today I made a list of the functions my iPhone 6S regularly performs for me, where it replaces other devices, technologies and media. This list includes: watch, stopwatch, alarm clock, point and shoot camera, video camera, photo album, PDA, calculator, GPS, map, music player, portable video player, calendar, appointment diary, book library, ebook reader, audiobook player, magazine, newspaper, recipe book, email client, note pad, drawing tablet, night sky star map, web browser, portable gaming console, radio, TV, audio recorder, TV and audio remote control, landline, and mobile phone.

Not only does it do all of those things but it does a lot of them better than the specialised devices it replaces! And, even though the iPhone isn't cheap, if you look at the value of the things it replaces it is a bargain. My guess at the value of all the stuff I listed above is $3000 - $5000 which is at least twice the cost of the phone itself.

My iPhone has one million times the storage of the first computer I programmed on. Its processors are tens of thousands of times faster. Its screen displays 25 times more pixels. And, again, it costs a lot less, even when not allowing for inflation.

Most of what I have said would apply to any modern smart-phone, but the iPhone deserves a special place amongst the others for two reasons. First, it is a purer example of ease of use and user-centered functionality than other phones; and second, it was the one phone which started the revolution.

Look at pictures of the most advanced phones before and after the iPhone and you will see a sudden transition. Apple lead the way - not on how to make a smartphone - but on how to make a smartphone that people would actually want to use. And after that, everything changed.

There are no comments for this entry.

You can leave comments about this entry using this form.
To add a comment: enter a name and email (both optional), type the number shown above, enter a comment, then click Add.
Note that you can leave the name blank if you want to remain anonymous.
Enter your email address to receive notifications of replies and updates to this entry.
The comment should appear immediately because the authorisation system is currently inactive.