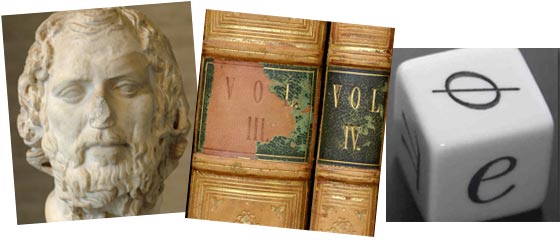 Add a Comment (Go Up to OJB's Blog Page)
Making Us Smart
Entry 1862, on 2017-06-28 at 23:16:46 (Rating 2, Comments)
Many people think the internet is making us dumb. They think we don't use our memory any more because all the information we need is on the web in places like Wikipedia. They think we don't get exposed to a variety of ideas because we only visit places which already hold the same views as we do. And they think we spend too much time on social media discussing what we had for breakfast.

Is any of this stuff true? Well, in some cases it is. Some people live very superficial lives in the virtual world but I suspect those same people are just naturally superficial and would act exactly the same way in the real world.

For example, very few people, before the internet became popular, remembered a lot of facts. Back then, some people owned the print version of the Encyclopedia Brittanica, and presumably these were people who valued knowledge because the print version wasn't cheap!

But a survey run by the company found that the average owner only used that reference once per year. If they only referred to an encyclopedia once a year it doesn't give them much to remember really, does it?

Today I probably refer to Wikipedia multiple times per day. Sure I don't remember many of the details of what I have read, but I do tend to get a good overview of the subject I am researching or get a specific fact for a specific purpose.

And finding a subject in Wikipedia is super-easy. Generally it only takes a few seconds, compared with much longer looking in an index, choosing the right volume, and finding the correct page of a print encyclopedia.

Plus Wikipedia has easy to use linking between subjects. Often a search for one subject leads down a long and interesting path to other, related topics which I might never learn about otherwise.

Finally, it is always up to date. The print version was usually years old but I have found information in Wikipedia which refers to an event which happened just hours before I looked.

So it seems to me that we have a far richer and more accessible information source now than we have ever had in the past. I agree that Wikipedia is susceptible to a certain extent to false or biased information but how often does that really happen? Very rarely in my experience, and a survey done a few years back indicated the number of errors in Wikipedia was fairly similar to Brittanica (which is also a web-based source now, anyway).

Do we find ourselves mis-remembering details or completely forgetting something we have just seen on the internet? Sure, but that isn't much to do with the source. It's because the human brain is not a very good memory device. If it was true that we are remembering less (and I don't think it is) that might even be a good thing because it means we have to get our information from a reliable source instead!

And it's not even that this is a new thing. Warnings about how new technologies are going to make us dumb go back many years. A similar argument was made when mass production of books became possible. Few people would agree with that argument now and few people will agree with it being applied to the internet in future.

What about the variety of ideas issue? Well people who only interact with sources that tell them what they want to believe on-line would very likely do the same thing off-line.

If someone is a fundamentalist Christian, for example, they are very unlikely to be in many situations where they will be exposed to views of atheists or Muslims. They just wouldn't spend much time with people like that.

In fact, again there might be a greater chance to be exposed to a wider variety of views on-line, although I do agree that the echo-chambers of like-minded opinion like Facebook and other sites often tend to be is a problem.

And a similar argument applies to the presumption that most discussion on-line is trivial. I often hear people say something like "I don't use Twitter because I don't care what someone had for breakfast". When I ask how much time they have spent on Twitter I am not surprised to hear that it is usually zero.

Just to give a better idea of what value can come from social media, here is the topic of the top few entries in my current Twitter feed...

I learned that helium is the only element that was discovered in space before found on earth. (I already knew that because I am an amateur astronomer, but it is an interesting fact, anyway).

New Scientist reported that the ozone layer recovery will be delayed by chemical leaks (and it had a link if I want details).

ZDNet (a computer news and information site) tweeted the title of an article: "Why I'm still surprised the iPhone didn't die." (and again there was a link to the article).

New Scientist also tweeted that a study showed that "Urban house finches use fibres from cigarette butts in their nests to deter parasites" (where else would you get such valuable insights!)

Guardian Science reported that "scientists explain rare phenomenon of 'nocturnal sun'" (I'll probably read that one later).

ZDNet reported the latest malware problem with the headline "A massive cyberattack is hitting organisations around the world" (I had already read that article)

Oxford dictionaries tweeted a link to an article about "33 incredible words ending in -ible and -able" (I'll read that and add it to my interesting English words list).

The Onion (a satirical on-line news site) tweeted a very useful article on "Tips For Choosing The Right Pet" including advice such as "Consider a rabbit for a cuddly, low cost pet you can test your shampoo on".

Friedrice Nietzsche tweeted "five easy pentacles" (yes, I doubt this person is related to the real Nietzsche, and I also have no idea what it means).

Greenpeace NZ linked to an article "Read the new report into how intensive livestock farming could be endangering our health" (with a link to the report).

Otago Philosophy tweeted that "@Otago philosopher @jamesmaclaurin taking part in the Driverless Future panel session at the Institute of Public Works Engineers Conference" (with a link).

I don't see a lot of trivial drivel about breakfast there. And where else would I get such an amazing collection of interesting stuff? Sure, I get that because I chose to follow people/organisations like science magazines, philosophers, and computer news sources, but there is clearly nothing inherently useless about Twitter.

So is the internet making us dumb? Well, like any tool or source, if someone is determined to be misinformed and ignorant the internet can certainly help, but it's also the greatest invention of modern times, the greatest repository of information humanity has ever had, and something that, when treated with appropriate respect, will make you really smart, not dumb!

Comment 1 (4744) by Anonymous on 2017-06-29 at 14:01:47:

I think OJB believes a bit too much of his own geeky propaganda. Is the internet really as great as he makes out in this post?

Comment 2 (4745) by OJB on 2017-06-29 at 21:33:50:

Well I believe it is, for the reasons I listed above (although I accept there are problems as well). Do you have any actual evidence to the contrary?

You can leave comments about this entry using this form.
To add a comment: enter a name and email (both optional), type the number shown above, enter a comment, then click Add.
Note that you can leave the name blank if you want to remain anonymous.
Enter your email address to receive notifications of replies and updates to this entry.
The comment should appear immediately because the authorisation system is currently inactive.