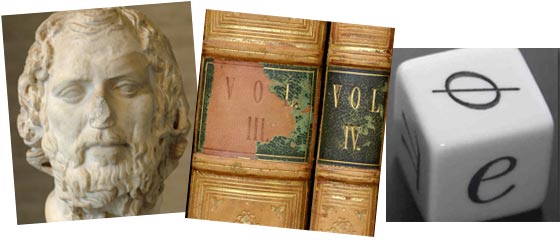 Add a Comment (Go Up to OJB's Blog Page)
Captain's Log
Entry 1873, on 2017-08-28 at 22:57:19 (Rating 3, Comments)
Captain's Log, Mission Day 30476.32

At 0.30 today we deactivated the star drive and approached the planet.

As our astronomers had already discovered, it is a rocky world orbiting a yellow dwarf sun. Compared to our own world it is just slightly smaller and hotter, and its sun is remarkably similar to ours, so it might almost seem like home to us.

The mysterious presence of molecular oxygen in the atmosphere has been confirmed by our observations but we are still too far away to discover what it source is. Whether it turns out to be some complex inorganic chemical reaction or the side effect of life we cannot yet tell.

I don't need to tell you what a discovery it would be if this planet does have life, because in all the thousands of planets we have visited, all have been barren. Maybe we are the only ones, or maybe we have just been unlucky in our search so far. After all, there are hundreds of billions of planets in this galaxy alone and the few thousand we have visited is just a tiny start in exploring them. But I will end my speculation here because tomorrow we might know.

Day 30477.27

The detail visible on the planet's surface is increasing rapidly as we approach. This final stage of space travel is frustrating, of course, because inside a solar system we cannot use the star drive and must revert to conventional propulsion systems.

The feature which dominates the planet's surface is a huge impact crater which we calculate was formed relatively recently. If there was life on this planet it would likely have been virtually wiped out by this disaster.

A spectrographic analysis will be complete later today, and that should reveal the presence of the molecules of life if they exist here. We should soon know the answer to the question we came here for.

Day 30477.34

The spectrography is complete and we are almost 100% certain there is life on the planet. A molecule which is very similar to one used by plant life on our own planet has been detected in great quantities. It seems that all of the oceans (which cover over 60% of the planet's surface) and a lot of the land contain some sort of organism which can convert sunlight to energy and release oxygen in the process. This explains the excess oxygen in the atmosphere.

Day 30478.72

We have put the ship into orbit around the mysterious planet and our detailed observations are now revealing something which has produced a lot of disagreement among our scientists. There are apparently symmetric structures over many parts of the planet which seem artificial. They are covered with many years of dust and debris from the impact but some of our more radical researchers think they are the remains of great structures built by an intelligent species which one lived here.

We are almost ready to send a party down to investigate these in more detail. This is potentially the greatest discovery of all time. Initially we coud barely hope to find any life here but now we are serious about the possibility of finding intelligent life.

Day 30479.37

The unthinkable has happened. Our landing party has confirmed that the structures are artificial. There seems to be no other explanation except they were built by an intelligence with technology approaching our own in sophistication. We now need to establish whether they survived the asteroid impact.

Day 30479.82

Most of the land surface of the planet has been devastated, but some life in the oceans has survived. We have discovered a massive variety of different species there, a few of which have some level of intelligence, but there is no sign of technology.

Day 30480.21

The exploration of the alien structures (it seems obvious they were cities where large numbers - perhaps millions - of the aliens lived) continues, and we have made a very significant discovery which might allow us to explore the history of the planet. We have found various objects which seem to be storage devices. Our best technicians will work on these and if we can read them we might be able to translate whatever information they contain.

Day 30480.69

The storage devices appear to contain electronic circuits based on silicon technology. We should be able to adapt some of our own computers to read them because they are similar to a technology we have used recently before moving to photonic storage.

Day 30481.11

We have cracked the storage devices! They contain data stored in an 8 bit code which maps to an alphabet. It seems that the symbols in this alphabet form groups which correspond to words in a language. The language is very obscure and is likely something which has changed and become more complex over a long time period. We will continue to work on decoding it.

Day 30482.48

The language decoding is progressing rapidly and we now know a lot about the society that existed there. A lot of what I am going to say here will seem shocking, but our best language experts and anthropologists agree it is what they material we have discovered reveals, and fits in with the physical evidence we see on almost the entire surface of the planet.

The intelligent inhabitants of the planet were called "humans" and the planet was called "Earth". There were millions of different species on the planet before the impact but 90% of them, including all of the land species, were wiped out.

We cannot find any signs that any of the humans survived, but they did have the technology available to live almost indefinitely in the oceans so some might survive there. They also had space technology sufficient to travel around the solar system, but did not have the capability for interstellar travel.

The humans had a society which had many admirable characteristics. The planet was divided into hundreds of areas called "countries" which had slightly different types of inhabitants, different leadership, economic systems, etc. Most of the countries had a system to choose a leader where the population voted and the most successful person became leader for a period of time. Unfortunately this system became corrupted and the leaders were rarely very competent.

Most shockingly there was constant competition between these countries and this often extended to organised combat between different factions, often resulting in numerous deaths. Reasons for these "wars" included competition over resources, land ownership, and even differences in opinion over philosophy, including (most bizarrely) an amazingly common system known as "religion" where the humans became believers in various supernatural entities. Why they maintained these bizarre beliefs and how one myth was chosen over another requires further study.

You can see at this point that humans exhibited a strange combination of quite advanced science and technology and surprisingly primitive beliefs. It would not be uncommon, for example, for a believer in a supernatural entity who espoused pacifism to use an advanced combat machine of some sort to kill thousands of his opponents who believed in a slightly different deity. Clearly our anthropologists have a lot of work to do in this area.

But finally in this initial report on the history of humans I must discuss the most obvious question, and the one which is both hardest to understand and the most tragic to contemplate. That is, if the humans had the technology available, why did they not divert the asteroid, avoid the impact in some other way, or even move some of their people to another planet?

The initial evidence seems to indicate that they were too distracted with other things, especially their economic system. A lot of resource and effort was applied to things which make no sense, such as persuading people to buy unhealthy drinks which had no benefit at all, or paying participants in entertainment events which no intelligent person could take seriously. Yet all this time completely inadequate effort was put into protecting the planet from obvious threats.

When the asteroid was first seen it was already too late. A small investment in monitoring the sky for asteroids and in the technology required to divert them would have saved the planet. Yet they seemed to believe that other things were more important.

As captain, I shouldn't really offer a value judgement on what happened here on Earth, but it is so disappointing to find a spark of intelligence, so rare in this universe, has now gone, completely unnecessarily. And I have to say that, given the way they acted, maybe it was for the best.

Comment 1 (4766) by Richard on 2017-09-05 at 12:21:29:

Cool - a fun read Owen, highlighting your particular areas of interest and passion. I certainly won't spoil it by getting all philosophical, but couldn't resist this one (completely light hearted for humour only) question that is possibly shared by others...?? How long is a 'day'? i.e. is it an Earth/Solar day or using some other elapsed time reference from the higher intelligence. It is a bit hard to tell from the text alone and both options could be supported. he he

Comment 2 (4767) by OJB on 2017-09-05 at 12:37:35:

Yes, the day refers to a time period used by the alien visitors. It might or might not be similar to an Earth day. That wasn't critical to the point of the story so I didn't clarify it.

You can leave comments about this entry using this form.
To add a comment: enter a name and email (both optional), type the number shown above, enter a comment, then click Add.
Note that you can leave the name blank if you want to remain anonymous.
Enter your email address to receive notifications of replies and updates to this entry.
The comment should appear immediately because the authorisation system is currently inactive.