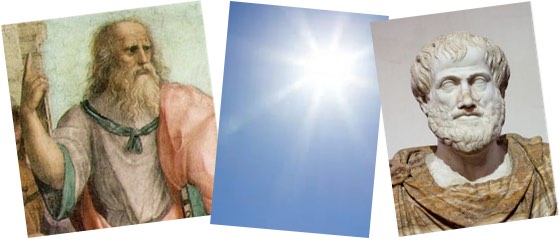 Add a Comment (Go Up to OJB's Blog Page)
The Hard Problem
Entry 1874, on 2017-09-03 at 22:25:59 (Rating 2, Philosophy)
Recently, while purchasing a few items at a wholesaler I was asked what I was listening to on my phone (because I had my Apple earphones on). I told the person I was listening to a podcast, and when that got a blank response I explained it was like a recorded radio program automatically downloaded from the internet, and that this one was by a philosopher and was mainly about politics. I was asked "are you listening to parliament?" and decided it was best to not try to explain further by making a joke like: "I wouldn't listen to that because I want to retain what small scraps of sanity I still have."

But it did emphasise how little most people know or care about many of the things that interest me, including some of the most difficult and obscure problems in science and philosophy today. Now, please don't think I'm being elitist or arrogant because I know that I am no expert on any of this stuff, I just find it interesting, and knowing more about it is part of my aim to be good at everything but brilliant at nothing!

More recently I listened to another podcast in the same series which dealt with a subject which exactly of the type I mentioned above. That is the hard problem of consciousness. What is consciousness, where does it come from, and what else possesses it, apart from me?

Before I continue I will say what I mean by consciousness here. Basically it is the feeling that I (and presumably others) have that I am an individual, that I have some continuity of existence from the past, that I have some form of free will (or at least the illusion of that) to control the world to some extent. Where does this come from?

The idea which I find most compelling, and the one which I think is generally accepted by the majority of scientists is that consciousness is an emergent phenomenon of the processes which occur inside a brain of sufficient complexity. But some people, especially some philosophers and a lot of theologians, believe it is better explained through dualism. That is the idea that there is something beyond the physical processes of thought occurring in the brain. Maybe that there is a "soul" (not necessarily in the religious sense) which is in final control of the physical processes.

At this stage, all the neuroscience I have heard of gives me no reason to think that anything beyond the purely material exists. But I want to ignore the good, solid stuff like that and consider some idle speculation and thought experiments instead!

Imagine my personal identity, my mind, my consciousness is an emergent property of my brain processes. What would happen if an exact copy of me was made (in something like a Star Trek transporter which copied the original person instead of moving him). Where would my consciousness them lie? The copy would be identical, with an identical brain and identical processes. If my thoughts arose from physical processes would I experience them in both bodies simultaneously?

Alternatively, imagine it was possible to "back up" all the information in a brain and upload it to a computer, then re-establish it after death or injury. What would happen if it was downloaded into a different brain? What would happen if it ran on an artificial brain in the computer itself?

Another disturbing question is how complex does a brain need to be before it becomes conscious? It certainly seems that many animals are self-aware. Surely chimps, dolphins, etc have similar levels of consciousness to humans. What about cats and dogs? Rats and mice? Flies? Where does it end?

And if consciousness arises through the processing power of a brain, can it also arise in an artificial brain, like a sufficiently complex and properly programmed computer? Or does it only arise in "naturally arising" entities. What about in an alien? What if that alien evolved a silicon brain very similar to a computer?

We know that our cells are constantly being replaced, don't we? Well no, that isn't exactly true. Different cells have different "life spans", from a few days up to apparently the life of the individual. Significantly, it is some types of brain neurons which are never replaced. Is it these cells which give us our individual identity?

Now let's imagine that duality is a better explanation. There are some anecdotes indicating that consciousness apparently exists independently of the body. There are out of body experiences, various phenomena such as ESP, reincarnation, and near death experiences. Some of these seem quite compelling but they have never been confirmed by any rigorous scientific study.

Maybe the brain is just an interface between the non-physical seat of consciousness and the body. If the brain is damaged or dies the consciousness still exists but has no way to interact with the world. It would be difficult to distinguish between that and the emergent phenomenon hypothesis I outlined above so maybe this is one of those theories which is "not even wrong".

Finally there is computation and maths. The way maths seems to reflect and even predict reality has been a puzzle since the article called "the unreasonable effectiveness of mathematics in the natural sciences" was published almost 50 years ago. Some physicists have noted that reality seems to almost arise from a form of computation, which seems to explain the effectiveness of maths.

So now we seem to be getting back to the idea that the universe might be a simulation (see my blog post titled "Life's Just a Game" from 2016-07-06). If it is then the universe was created by someone (or something). Would that thing be a god? And if the individual entities are "just" part of a simulation do they have any less moral rights as a result?

Maybe all of this stuff is "not even wrong" and maybe it is pointless to even speculate about it, but sometimes doing pointless things is OK, just as long as we don't take it too seriously.

So I think I will continue to listen to philosophical musings rather than the rather more mundane business of politics I hear in parliament. Actually, I think there is room for both, because politics is also a subject I include in my "good at everything" strategy. And one thing is clear: in most subjects being above average isn't difficult!

Comment 1 (4764) by richard on 2017-09-04 at 07:12:52:

Tough questions for sure. I quite enjoyed a recent edition of the Inifinte Monkey Cage podcast (which I assume you are familiar with) on the question of are we living in a simulation. A fun discussion on the topic. Podcast URL here.

Comment 2 (4765) by OJB on 2017-09-04 at 10:02:15:

Yes, I listen to the Infinite Monkey Cage (great name for a podcast). It's a very amusing podcast and occasionally contains some useful information as well!

You can leave comments about this entry using this form.
To add a comment: enter a name and email (both optional), type the number shown above, enter a comment, then click Add.
Note that you can leave the name blank if you want to remain anonymous.
Enter your email address to receive notifications of replies and updates to this entry.
The comment should appear immediately because the authorisation system is currently inactive.