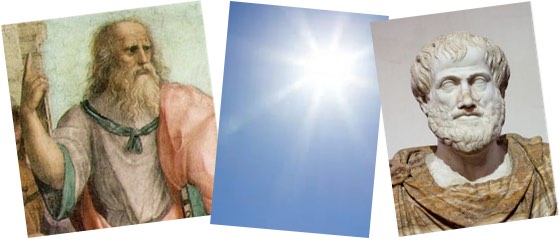 Add a Comment (Go Up to OJB's Blog Page)
Don't Take it Seriously
Entry 1876, on 2017-09-12 at 22:10:12 (Rating 4, Philosophy)
They say that people who cannot laugh at themselves leave the job for someone else. I think there is a lot of truth in that idea because too many people take themselves, and their beliefs, far too seriously, and they don't usually look good as a result.

In the end, most everyday issues which people get upset and very serious about are really unbelievably trivial. As an amateur astronomer and science enthusiast I know enough about the universe as a whole (or maybe even the multiverse) to know that practically everything that people take so seriously is nothing more than the tiniest, most frivolous absurdity when you look at the big picture.

To provide examples I would like to pick on some of my usual targets: managers and other bureaucrats, and religious people.

Recently I commented that a good test for Muslims who would like to move to New Zealand to live would be to have them prove that they don't take their religion too seriously by eating a pork sausage. That was deliberately provocative, because eating pork is haram (forbidden) by the Quran, except in extreme circumstances such as starvation.

Why would I want to impose such an offensive (according to some people) test? Well, I wouldn't really, of course, because it was a rhetorical point I was trying to make, rather than a serious one, but this does show how a non-serious point can be effective. Maybe a better test would be to have them have a laugh at a cartoon featuring the prophet Mohammed. Yes, I'm only somewhat more serious about that.

But why have a test at all? Well, people who have extreme views on religion tend to be dangerous. They might be more likely to carry out terrorist acts, for example, because despite the protestations of the politically-correct left, religion is the major motivating factor for most terrorists.

And even if their serious religious "philosophy" doesn't motivate them to wanting to blow themselves up, along with whatever other innocent people might be in range, it might still encourage them towards other regressive ideas, such as being against equality for women, wanting to punish homosexuals, or wanting to enforce their primitive social standards on others.

Naturally, I would not want anyone to think that this process would stop at Islam. Extremist Christians would also need to be vetted by a similar process. I have plenty of "offensive" cartoons featuring Jesus that they could have a little laugh at. For example: Jesus is hanging on his cross, after a while he dies and the Romans dangle him on strings from the cross like a puppet and reanimate him, people see this and think Jesus has risen from the dead, and the Romans think it's hilarious!

And it could go beyond religion, too. For example, Apple zealots, like me, could be challenged by having to laugh at a cartoon of Jony Ive making some pretentious pronouncement about his design philosophy (I just Googled that and there are plenty out there).

Many might say that an "offensive" computer cartoon hardly rates at a similar level to an "offensive" religious one, but I disagree. If someone takes their religion more seriously than I take good design of computer technology then they are taking it too seriously, and that's my whole point. After all, their religion isn't actually true, so treating it with a bit less sincerity seems entirely sensible.

I know religious people who I like to gently and respectfully debate regarding their beliefs, and I expect to get the same back again. If someone wants to criticise me based on my "beliefs" (I am atheist, pro-science, liberal but anti-political correctness, pro-Apple) then that's fine - I don't take it too seriously, at least as long as they don't.

When I look at the latest HST image of the universe and see thousands of galaxies in a small area of sky smaller than the Moon, and I realise there are hundreds of billions of stars (and presumably hundreds of billions of planets, and probably life, and maybe intelligent life, and just possibly some civilisations far more advanced than ours) in each one, then it's pretty hard to take the inane assertions of any religion seriously.

It's also hard to take any debate on what the best type of computer is seriously, it's hard to take any pathetic rules and regulations created by bureaucrats seriously... hey, let's just take this to the logical conclusion: you cannot take anything seriously.

So lighten up everyone. We live in a magnificent universe and our problems, thoughts, and beliefs are of no consequence at all, really. Why not just accept the obvious absurdity of human existence and not take things so seriously.

Comment 1 (4768) by dattaragurl on 2017-09-12 at 23:33:30:

Pro-Apple? I didnít even know there was such a thing, lmao. I actually enjoyed reading this, you made some very valid points.

Comment 2 (4769) by OJB on 2017-09-12 at 23:34:03:

I donít like big business in general but I work in IT and I just like the design and quality of Apple products, plus the fact that the OS is based on Unix.

You can leave comments about this entry using this form.
To add a comment: enter a name and email (both optional), type the number shown above, enter a comment, then click Add.
Note that you can leave the name blank if you want to remain anonymous.
Enter your email address to receive notifications of replies and updates to this entry.
The comment should appear immediately because the authorisation system is currently inactive.