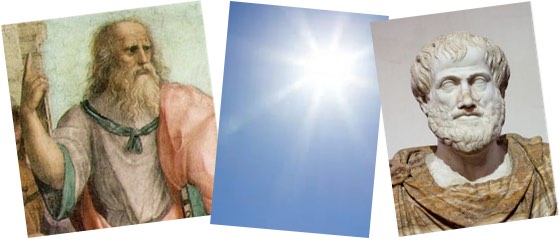 Add a Comment (Go Up to OJB's Blog Page)
Child or Picasso?
Entry 1881, on 2017-10-16 at 21:39:44 (Rating 2, Philosophy)
I love thought experiments, and I'm in pretty good company because so did people like Einstein! If you don't know, a thought experiment is a way to test an idea by applying logic to it through pure thought. It often leads to new ideas (as it did for Einstein in developing the General Theory of Relativity) which might then be tested with experiments in the real world.

So General Relativity is an example of where a thought experiment was used in physics, but they can also be used in other areas, such as philosophy. In previous posts I have talked about the famous "trolley experiments" (originally in "More Morality" from 2007-11-27, and "Would You Press the Button?" from 2013-07-16) which are probably the most well known thought experiments in the area of ethics, and I have a few more in that area I want to discuss in this post.

This is interesting stuff but you have to go from one point to the next honestly. So let's go through some of these experiments. Here goes...

Philosopher, Peter Singer, likes to challenge his students with the following question: "I ask them to imagine that their route to the university takes them past a shallow pond. One morning, I say to them, you notice a child has fallen in and appears to be drowning. To wade in and pull the child out would be easy but it will mean that you get your clothes wet and muddy, and by the time you go home and change you will have missed your first class."

Unanimously, the students say they are morally obliged to rescue the child. He then asks, "assuming you could still perform the rescue, would the distance to the pond, or the nationality of the child matter?" The vast majority say no, they are still obliged to act to rescue the child. He then points out that a similar "rescue" could be achieved with very little effort in time or money by donating to a charity, like Oxfam, who are concerned with saving many lives every day.

Yet few of the students do this. Why not?

Now imagine a burning building with a child trapped inside. You can rescue the child relatively easily, and almost everyone says they would. But there is also an extremely valuable Picasso painting in the house which you will get a $1 million reward for. If you remove it from the fire you won't have time to rescue the child as well. What should you do? Almost everyone would value the child's life more and rescue her instead of the painting.

But what could you do with that $1 million? You could save hundreds of lives by donating it to charities, such as the one which provides mosquito nets in Africa. Still, most people would save the child instead. Also note that, if you did do the "logical" thing and saved the painting in order to help thousands of people later, you would probably be charged with a crime for not making a reasonable effort to save the child, as well as suffering the contempt of your friends and family!

But now imagine the building had two rooms. The first room contains the child and the painting, and the second has 5 children. If you grab the painting from the first room and ignore the single child, you can use the painting to prop open the door to the second room and rescue 5. Do you grab the painting then? If you do, what is the difference between doing that and taking it for the monetary value which could be used to save far more than just 5 lives later?

Finally, consider the burning building again. Behind the painting is a lever which releases the 5 children in the room next door. Do you ignore the single child, remove the painting, and activate the lever? Most people would. What about if the lever, through a complex mechanism, activated a food distribution system in Africa and immediately saved a thousand lives? You might still use it. And if the mechanism had a delay of 6 months before the lives were saved? Well maybe and maybe not. And is that any different than distributing the funds from the reward for the painting? In the final analysis, no, but most people treat it as if it is.

It should be clear by now that people's ethical choices do not depend on a logical treatment of the facts involved in a particular situation. Not only do most people ignore the possibility of making a much more significant contribution later rather than a lesser one immediately, but they also treat the directness of their action as a major factor, rather than the final outcome.

Consequentialism is a philosophical doctrine which states that the best course of action should be judged by its final consequences. Superficially this seems to make sense, but no one can follow this in the real world. And if they tried they would very likely be condemned by others. Not only that, but trying to analyse the options available in a situation like those mentioned above would probably result in a paralysis of uncertainty to many people.

Maybe it's just as well we act on immediate instincts rather than a careful analysis of the situation we find ourselves in. No philosophical system, including consequentialism, can really answer these questions. And although the answers are usually not obvious there is a significant amount of agreement in what people would do.

Decisions like this are a complex combination of logic, emotion, and social conditioning. And that's OK, because the end result is usually fairly reasonable even though they make no sense. General Relativity thought experiments are so much easier!

Comment 1 (4837) by Anonymous on 2017-10-26 at 18:04:03: OMG you cannot be serious!

Comment 2 (4838) by OJB on 2017-10-26 at 22:32:12:

Huh? Not serious about what in particular? You realise these are thought experiments, right? They are not supposed to be something that would be likely to happen, just something to make you think about things in a particular way. Does that make sense?

Comment 3 (4839) by richard on 2017-10-30 at 15:18:54:

I think you are right - paralysis of uncertainty is possibly the biggest factor. While it's easy to 'suggest' that more lives will be saved by some alternative but it's simply not as 'certain' as the immediate situation that is controlled by the decision maker. Also reminds me of I-Robot and the scene with the vehicles in the river... (paraphrased) 'a human would have saved the child' (even though the chances were lower). Yeah - no such moral dilemmas with GR thought experiments. Cheers.

Comment 4 (4840) by OJB on 2017-10-30 at 15:42:49:

Yes. No doubt you will be aware of the debates over how automated machines, such as self-driving cars, should make decisions which might be classified as morality-based, such as should they deliberately crash into a concrete wall, and harm the occupant, if they can avoid a collision with a pedestrian.

Then it becomes like the thought experiments... what if there are two occupants and one pedestrian. What if the situation is the pedestrian's fault. What if the owner of the car had bought the optional self-protection feature? It sort of makes the thought experiments real.

You can leave comments about this entry using this form.
To add a comment: enter a name and email (both optional), type the number shown above, enter a comment, then click Add.
Note that you can leave the name blank if you want to remain anonymous.
Enter your email address to receive notifications of replies and updates to this entry.
The comment should appear immediately because the authorisation system is currently inactive.