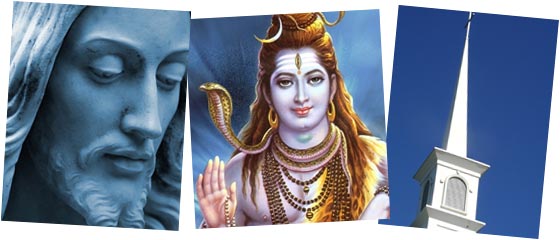 Add a Comment (Go Up to OJB's Blog Page)
Revolting and Primitive
Entry 1883, on 2017-11-01 at 17:15:39 (Rating 5, Religion)
I like to get involved with controversial topics when I debate people on-line. This sort of makes sense because what sort of interesting debate are you going to have over something that isn't controversial? When it comes to controversy two topics tend to come to the fore: politics and religion. And if you read this blog you will see these are two of my favourite subjects!

The "discussion" I want to consider here was about who is to blame for the anti-immigrant sentiment which is giving right-oriented politics traction in various parts of the world (the US and Europe in particular).

My hypothesis was that moderate governments have been too lenient - largely through a propensity towards political correctness, and a wish to implement a quick and easy boost to their economies - regarding Muslim immigration into countries like Germany, the UK, and France.

So I made the following somewhat inflammatory remark on the subject: "I'm sure many Muslims are nice people but Islam is a revolting, primitive religion, and you can't blame people for being worried about it. If moderate parties won't control the power of Islam then people have to vote for more extreme parties. It's unfortunate but you can only blame the moderates."

Notice that, while this could be seen as controversial, I am sticking to my standards of criticising ideas rather than people. I genuinely believe the bit about many Muslims being nice people, because I know some, and they are. But that doesn't detract from the second idea that the Islamic religious/political belief system itself is not so nice, although "primitive" and "revolting" is possibly a bit on the extreme end of the potential range of criticisms!

Of course, the SJWs immediately jumped on their band-wagon (do they ever leave it?) and criticised me by saying something like "it is you who is revolting and primitive".

And that's exactly what I wanted, because I replied with "yes, I often blow myself up and kill innocent children, I don't let women participate as equals in society, I use stoning and amputation of limbs as a punishment, and I support the death penalty for apostasy".

Strangely, the SJWs seemed to shut-up after that, although I did get a couple of messages of support!

Often in that situation I would get some reasonably fair counters to my point. People might say I am choosing the worst aspects of Islam and ignoring the best. Or they might say someone who supports those ideas is not a true Muslim. Or they might say other religions and belief systems are just as bad.

I don't believe any of those ideas hold up to much scrutiny, but at least they are orders of magnitude better than the simple-minded ad hominem I got.

But enough of that indignation at being castigated in such insulting terms, because, as I said, that was exactly what I wanted. What about my response to the possible reasonable responses I listed above?

What about the criticism that I am concentrating on the worst aspects of Islam? Well yes, I am in a way, because those are the aspects which affect me, and the culture I most identify with. If there were a lot of positive aspects which I felt an affinity for I would have mentioned those, but quite honestly I cannot think of anything, except for the very general wish for more diversity to make life more interesting.

Remember that I am criticising Islam here. If I was asked to give my opinion on an individual Muslim I would very likely say that I liked them, because there is so much more to most people than their religion. But for some people there actually isn't much more. The people who are prepared to kill themselves and others for their religion are very much defined by it. This gets back to my oft-repeated idea that "religion is OK, as long as you don't take it too seriously"!

But what about the second point, that the people committing atrocities around the world are not motivated by religion, or aren't true Muslims? This is probably the most pernicious lie that the PC left tell themsleves. We know these people are directly motivated by their religion because they tell us they are. And there aren't many ideologies, apart from religion and it's promise of entry into paradise after death, which people are prepared to die for.

And then there's the idea that other religions (and other "belief systems" such as political ideologies and even atheism) are just as bad as Islam. But are they?

Look at a list of who is responsible for most of the revolting and primitive (there are those words again) acts around the world. In almost every case these are directly motivated by a belief in Islamic religious and political doctrine, including the idea that those who sacrifice themselves for the cause will be admitted to paradise in the after-life, the idea that non-Muslims can be killed or enslaved, and the wish to initiate a final battle where Islam will emerge dominant.

Do we see that from Christians? No, not any more at least, because Christianity has been tamed by modern secular politics. What about Buddhists? Well disappointingly we do to some extent, but not in such a wide-ranging way. Do we see it from atheists? Of course not, because how can having no belief in a religion lead to acting on the associated dogma, because there is none! Do we see it from neo-Marxists or neo-Nazis or any other extreme political group? Again, no, not much.

So it seems to me that my criticism is fair and that none of the responses to it really make much sense, unless you are really desperate to find a way to defend an idea that you think you must defend, irrespective of it's true harm to the world.

So I don't regret my comment. As I said, it was on the extreme end of what I really think, but I think I made my point effectively, and that was my intention.

Comment 1 (4847) by Rob on 2017-11-13 at 23:26:23:

SJW's??? Also, am I supposed to believe these people are directly motivated by their religion solely on their say so? I'm also told by wealthy people that tax cuts for them are good for me and they only have my best interest at heart. Well, they told me so therefore it must be correct. What other interest could they possibly have?

Back to revolting and primitive. How else could you describe the mass shooting in the Las Vegas of the hundreds of unknown, non-threatening concert goers (you'll notice I didn't say innocent) by a privileged white male? What about the later killing of 28 church attendants in Texas? How about the mass killing of 20 innocent children at the Sandy Hook School in Connecticut? I don't think Islam has cornered the market on "revolting and primitive", although to be fair the shooter in Nevada did have a bump-stock and that is certainly a bit more advanced than rocks and clubs.

Comment 2 (4848) by OJB on 2017-11-14 at 09:26:29:

I suggest you read the material "Why we hate you" distributed by ISIS. It is clearly motivated primarily by religion. As always, there might be other elements as well, but religion is their primary motivator. Also, you might want to check how often "Allahu Akbar" are the last words of many suicide bombers. And also do a quick check on how many terrorists consider their own life expendable because of a belief in an after-life.

I'm not denying that there are other atrocities committed by non-Muslims, but they tend to be for inconsistent reasons and primarily involve mental disorders. The difference with Islam is that it is an organised, global force which espouses a very negative philosophy, and otherwise sane and normal people can commit acts of terror on its behalf.

Comment 3 (4849) by OJB on 2017-11-14 at 21:36:44:

Here's some excerpts from the ISIL magazine, Dabiq, from an article titled "Why We Hate You and Why We Fight You"...

We hate you, first and foremost, because you are disbelievers; you reject the oneness of Allah - whether you realize it or not - by making partners for Him in worship, you blaspheme against Him, claiming that He has a son, you fabricate lies against His prophets and messengers, and you indulge in all manner of devilish practices.

And: In the case of the atheist fringe, we hate you and wage war against you because you disbelieve in the existence of your Lord and Creator.

And: We hate you for your crimes against Islam and wage war against you to punish you for your transgressions against our religion.

And: ...you can accept reality and recognize that we will never stop hating you until you embrace Islam, and will never stop fighting you until you're ready to leave the swamp of warfare and terrorism through the exits we provide, the very exits put forth by our Lord for the People of the Scripture: Islam...

I'd say religion is a significant cause of their hate towards us, wouldn't you?

You can leave comments about this entry using this form.
To add a comment: enter a name and email (both optional), type the number shown above, enter a comment, then click Add.
Note that you can leave the name blank if you want to remain anonymous.
Enter your email address to receive notifications of replies and updates to this entry.
The comment should appear immediately because the authorisation system is currently inactive.