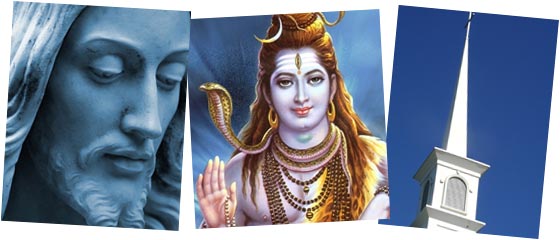 Add a Comment (Go Up to OJB's Blog Page)
Good or Bad
Entry 1885, on 2017-11-19 at 10:39:27 (Rating 3, Religion)
While I'm in the middle of a phase of religion bashing I thought it might be a good time to resurrect (an ironic choice of word) the old subject of religion in schools. This has appeared as an issue in the media here a few weeks back, so the subject is topical.

In the past, I have sort of shrugged off the issue saying something like, the young people nowadays are too smart to be taken in by some blatantly transparent myths and are likely to consign religion to the same category of fiction as the Lord of the Rings, or Game of Thrones.

This is no doubt true in most cases. Because, there is certainly reason to think that our civilisation's childhood, where it relied on ancient traditional stories as a basis for cultural identity, is now starting to reach a conclusion, and we are growing up and abandoning the imaginary invisible man in the sky.

Here in New Zealand the "no religion" group is about to reach 50% of the population. Additionally, as I have said in the past, most people who indicate Christian as their religion on the census don't really have any commitment to that belief and never attend church, read the Bible, or even really know much about it.

But it's when previously powerful belief systems are threatened that they can become most dangerous. It's a bit like a wild animal's attack reflex when it's cornered. So we should be especially careful now that churches don't make a last ditch stand before they are consigned to the rubbish heap of bad ideas like all their predecessors. And maybe even more worryingly, we need to be careful that even worse religions, like Islam, don't fill the void left by Christianity.

As I said above, most kids will not be taken in by the silly stuff they are taught in Bible in schools. But it is not the well-balanced, sensible, practical majority we need to worry about. It is the out of touch, emotionally and intellectually immature minority which are most at risk.

As I write this I realise that perhaps I have "shot myself in the foot" to a certain extent, because you might make a case to say that it is those who are not coping well who might have most to gain from joining a church and getting extra support and friendship.

I'm sure that there are some people who actually are better off joining a religion, and I have never argued for complete eradication of religion - at least I can't recall an occasion, although I might have done during one of my more extreme rants! On the other hand, there might be more appropriate groups than a church those people could gain even more from, without the need to resort to superstition.

At this stage it is apparent that I am still conflicted on this subject. Don't misunderstand, I am totally committed to the idea that religions are fake and have little purpose beyond that which can be provided far better by other knowledge systems (science for facts, philosophy for values), but fake stuff can still have value for certain people.

In the final analysis, this subject is just like every other: it is not a matter of black and white, or good and bad, just like I have so often said in past blog posts. I think that if kids were taught positive philosophical beliefs or given instruction in comparative religion in schools that would be of far more value than simple indoctrination in the dominant religion of the time, but maybe traditional Christian instruction - as along as it is controlled and doesn't turn into aggressive proselytising - is OK.

Unfortunately the temptation to regress to aggressive conversion - with the threats of torture in Hell for unbelievers, etc - is just too likely according to many reports in the media. So maybe it would be be best just to expel religions from schools because of current bad behaviour.

Well, this blog post has certainly turned out to be one of my most indecisive ever! So, in summary, religion in schools. Good or bad? Well, yes... yes, definitely good or bad.

Comment 1 (4850) by Rob on 2017-11-20 at 22:03:58:

Still not convinced Christianity is any better than Islam but in all honesty I haven't read the Qur'an.

Comment 2 (4851) by OJB on 2017-11-21 at 23:47:17:

I think a lot of people want to treat all groups the same, but not all ideas are equal. Why should they be? Surely if they are all different some must be better than others. Also, the way ideas affect the world varies.

I have said in the past that Mohammed was a war-lord and Jesus was a hippy. I know which I prefer!

Christianity has been the source of a lot of problems in the past, but I'm talking about now. Look at the source of terrorism, look at which societies are most backward, look at where a lot of conflict comes from, look at where religion has most political control. It's usually Islam causing the problems!

You can leave comments about this entry using this form.
To add a comment: enter a name and email (both optional), type the number shown above, enter a comment, then click Add.
Note that you can leave the name blank if you want to remain anonymous.
Enter your email address to receive notifications of replies and updates to this entry.
The comment should appear immediately because the authorisation system is currently inactive.