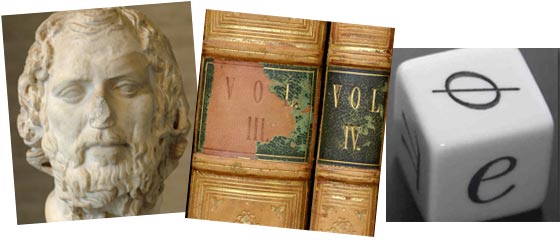 Add a Comment (Go Up to OJB's Blog Page)
Goddamn Sucks!
Entry 1912, on 2018-04-29 at 14:28:33 (Rating 4, Comments)
There are many conspiracy theories which attempt to explain the behaviour of big corporations. Some particular favourite victims of these theories are pharmaceutical companies and chemical companies, especially Monsanto.

But how true are these theories? Do big corporations really indulge in all the dirty tricks we hear about? Do they encourage the use of their products even though better ones exist? Do they use the legal system to lock people into using their products? Do they market products even though they know they are dangerous or ineffective? Do they use genetic engineering and other technology to force the use of their products? Do they gain patents on technology they have no real right to, then ramp up the prices after creating a monopoly?

Well, yes. I'm absolutely sure all of these things, and probably many others I haven't even been devious enough to think of, happen quite often.

So does this mean we should stop using products made by these corporations? Or should the governments of the countries they are based in (mainly the US and Europe) use legislation to control them? Or should they just be shut-down completely?

Well, no. I am no defender of the current economic system, but until we come up with something better we should accept the bad with the good. Because there are many good products which have been created by corporations. For example, despite the plethora of bad publicity, Roundup is actually a really effective, and relatively safe product. Is Monsanto a well behaved and moral company? Hell, no! It is most likely guilty of most of the "crimes" I listed above.

But Roundup (and other glyphosate-based herbicides which have appeared since the patent expired in 2000) are useful products. Many of the claims against it: that it causes cancer, that crops genetically modified to resist glyphosate have a terminator gene to prevent farmers re-sowing them, etc, are not supported by good evidence. So Monsanto might be "evil", but not as evil as that!

What about pharmaceutical companies? Well, many people prefer to take "natural" remedies instead of synthesised medicines because they are natural and therefore safer, and because they provide a way to escape the influence of the big corporations who manufacture the conventional drugs.

Except they are failing on both counts. Here are the facts: first, the vast majority of natural remedies don't work, or at least there is little or no evidence to show that they do work; second, many natural remedies can have serious detrimental effects if they aren't used carefully; third, many natural remedies either don't contain the active ingredients they say the do, or they are in much different concentrations, or they contain potentially dangerous contaminants; finally, most of the natural supplements and remedies are made by big corporations, usually the same ones who make the conventional drugs!

So it makes a lot more sense to just accept the negative aspects of the pharmaceutical industry and make use of the fact that they produce many useful products which have been carefully tested and contain exactly what they say they do, in the concentrations they state, unlike many of the natural alternatives.

Despite what I have said so far, I do think large corporations need to be controlled far more than they are now. The free market does not provide good incentives for corporations to develop the drugs the world really needs, nor does it encourage fair pricing and good competitive behaviour.

Drug companies spend a lot of money on frivolous products which are not really necessary but can be sold for good profits, while ignoring important research on new antibiotics, for example.

How do I know this sort of behaviour exists? Well, recently investment and banking company Goldman Sachs produced a report of their clients in the biotech industry. One of the questions they asked was: "is curing patients a sustainable business model?"

Basically they were noting that a drug which cures a disease permanently does not result in a recurring revenue stream for the company from that product. Drugs which treat but don't cure diseases, and might need to be taken for the rest of the patient's life, are far more profitable.

Specifically they noted that a new hepatitis C cure will make less than $4 billion this year. They also noted that new gene therapies - which many people might think are an exciting new development - might lead to curing patients, but is this a sustainable business model? Unfortunately, the answer seems to be "no".

Would a normal, profit-based company work to develop new cures where they could make far more from treatments, or even supplements which do nothing and are subject to very little scrutiny of quality and efficacy? That seems unlikely.

Journalists have contacted Goldman Sachs for comment, but while they confirmed the content of the report, they declined to comment.

So it seems that the "evil" corporations really exist. It also seems that taking "natural" supplements instead of conventional medicines is probably the worst thing you could do if you want to thwart their evil ambitions. So what should we do instead?

Well, there's not an awful lot you can do really, because our whole society is built around capitalism, and capitalism specifically rewards this "evil" behaviour. Capitalism is all about maximising profit at any cost. How often do we hear the platitude "that's just business" after a person or company has done something of a highly doubtful moral standard?

But within the system - which many people say is the best of all possible systems - this isn't actually bad at all, which is why I always put the word "evil" in quotes. If capitalism leads to the greatest efficiency, the greatest reward for hard work, and the greatest prosperity for the majority, then any perceived evil is invalid. Of course, it has become increasingly clear that the trickle-down theory doesn't work, and that capitalism has many flaws, but whether any other system is better is open to debate.

My usual recommendation at this point is to keep capitalism but control it carefully, and that conclusion hasn't changed. I think the word "evil" can genuinely be applied to many aspects of capitalism, and that tendency must be carefully controlled. In particular we need to understand that the free market will never provide for the most important needs of society. For that we need people motivated by something other than greed. Universities do that quite well, but we need to be careful not to apply the same "evil" incentives to them.

What we can do is try to change the zeitgeist. It should *not* be OK to have greed as your primary focus. Greed is *not* good. If you want to change society then change as many people's opinion on this topic as you can. Show them that capitalism is evil, but try to keep it real.

The alternative is not communism or some happy but impossible utopia - it is, at least as a first step, capitalism with its worst excesses - those espoused by companies like Goldman Sachs - eliminated. In fact, let's eradicate companies like Goldman Sachs who are responsible for the evil side of capitalism. They should have no place in any decent society.

Goldman Sachs? Should be Goddamn Sucks!

There are no comments for this entry.

You can leave comments about this entry using this form.
To add a comment: enter a name and email (both optional), type the number shown above, enter a comment, then click Add.
Note that you can leave the name blank if you want to remain anonymous.
Enter your email address to receive notifications of replies and updates to this entry.
The comment should appear immediately because the authorisation system is currently inactive.