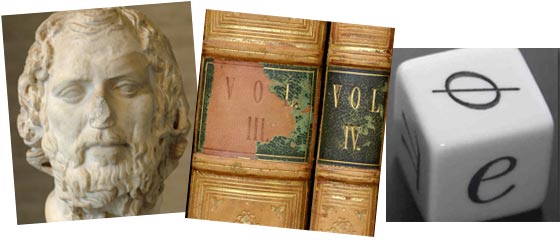 Add a Comment (Go Up to OJB's Blog Page)
The Folly of Human Conceits
Entry 1946, on 2018-11-09 at 20:13:13 (Rating 2, Comments)
I like to celebrate Carl Sagan Day with a blog post every few years. In the past I wrote "Carl Sagan Day" in 2010 and "Carl Sagan Day Again" in 2012 so maybe it's time to re-examine the whole idea and see if this this day is still even relevant.

First, what is the day, and who was Sagan? (hey, it's OK if you don't know).

Carl Sagan Day is a day - the 9th of November, Sagan's birthday - named after (unsurprisingly) Carl Sagan. It is intended to celebrate his life, contributions to science, and science in general (especially cosmology).

The fact that the date of 11/9 is the reverse of 9/11 is coincidental (this is so confusing considering that US and international date formats are reversed). I'm not sure if anyone else has commented on this, but I think it is interesting that the two represent such opposites: one rationality, truth, and tolerance; and the other stupidity, ignorance, and hate (on the part of the Islamic crazies, not those who remember the day).

Carl Sagan was a science populariser and astronomer. He is probably most famous for the TV series Cosmos, which presented his view of the universe in 13 episodes starting in 1980. He also contributed to planetary science, was an advisor to NASA, supported the search for extraterrestrial intelligence, took a firm stance in favour of rationality against pseudoscience, made contributions to environmental science (including the idea of nuclear winter), and was a political activist including standing against nuclear proliferation. Sagan died in 1996, aged 62.

So in the 1980s in particular Sagan was quite well known, but what is his relevance today?

Well, the Cosmos series was re-launched and updated in 2014 and was hosted by Neil deGrasse Tyson, who is arguably Sagan's modern equivalent. Whether Tyson is a worthy successor to Sagan I don't know, but I do have to say that, while I haven't seen the modern Cosmos series, I do enjoy his other material.

It would be excusable for people who are somewhat younger than me to say that they have no idea who Sagan was. In fact, even people who lived through that era might not remember him unless they were interested in science and skepticism.

But it would be great if they did acknowledge him, because he was a great science communicator - maybe the best in modern times - and was responsible for the field of science communication becoming a recognised and relevant field of study. In fact it is really only gaining true acceptance now, almost 40 years after he pioneered the idea.

I think Sagan presented factual information in a very approachable, meaningful, and almost poetic way. I have included what is possibly the best example of this before in this blog, but I want to do it again now, because this is maybe the most important commentary ever on the state of the world. It describes a photo taken from the Voyager 1 spacecraft from a distance of 6 billion kilometers looking back towards Earth. Our planet is a single pale blue pixel in that photo, easily missed in a band of orange light (and artefact of the photo).

Read Sagan's description and then wonder if you can then ever really see the world in the same way again...

Look again at that dot. That's here. That's home. That's us. On it everyone you love, everyone you know, everyone you ever heard of, every human being who ever was, lived out their lives. The aggregate of our joy and suffering, thousands of confident religions, ideologies, and economic doctrines, every hunter and forager, every hero and coward, every creator and destroyer of civilization, every king and peasant, every young couple in love, every mother and father, hopeful child, inventor and explorer, every teacher of morals, every corrupt politician, every "superstar," every "supreme leader," every saint and sinner in the history of our species lived there - on a mote of dust suspended in a sunbeam.

The Earth is a very small stage in a vast cosmic arena. Think of the rivers of blood spilled by all those generals and emperors so that, in glory and triumph, they could become the momentary masters of a fraction of a dot. Think of the endless cruelties visited by the inhabitants of one corner of this pixel on the scarcely distinguishable inhabitants of some other corner, how frequent their misunderstandings, how eager they are to kill one another, how fervent their hatreds.

Our posturings, our imagined self-importance, the delusion that we have some privileged position in the Universe, are challenged by this point of pale light. Our planet is a lonely speck in the great enveloping cosmic dark. In our obscurity, in all this vastness, there is no hint that help will come from elsewhere to save us from ourselves.

The Earth is the only world known so far to harbor life. There is nowhere else, at least in the near future, to which our species could migrate. Visit, yes. Settle, not yet. Like it or not, for the moment the Earth is where we make our stand.

It has been said that astronomy is a humbling and character-building experience. There is perhaps no better demonstration of the folly of human conceits than this distant image of our tiny world. To me, it underscores our responsibility to deal more kindly with one another, and to preserve and cherish the pale blue dot, the only home we've ever known.

Carl Sagan, Pale Blue Dot, 1994

You can listen to Sagan speak this, along with the Cosmos theme music, composed by Vangelis, here.

Comment 1 (4956) by I have read so many on 2018-11-11 at 10:23:14:

I have read so many content concerning the blogger lovers except this
post is genuinely a nice post, keep it up.

Comment 2 (4957) by Heya! on 2018-11-11 at 12:55:42:

Heya! I understand this is kind of off-topic however I had to ask.Does managing a well-established website like yours take a lot of work? I'm completely new to running a blog but I do write in my journal on a daily basis. I'd like to start a blog so I can easily share my own experience and feelings online.

Please let me know if you have any kind of ideas or tips for brand new aspiring bloggers. Thank you!

Comment 3 (4958) by OJB on 2018-11-12 at 18:58:07:

If anyone has any *genuine* questions, unrelated to the actual blog post, they can email me using the links at the bottom of every page.

You can leave comments about this entry using this form.
To add a comment: enter a name and email (both optional), type the number shown above, enter a comment, then click Add.
Note that you can leave the name blank if you want to remain anonymous.
Enter your email address to receive notifications of replies and updates to this entry.
The comment should appear immediately because the authorisation system is currently inactive.