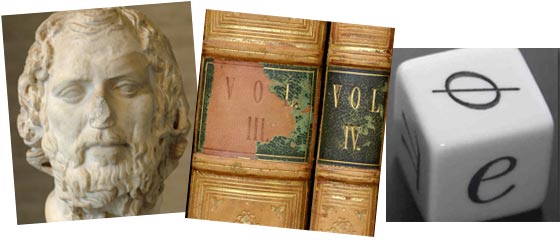 Add a Comment (Go Up to OJB's Blog Page)
That Ricky Gervais Rant
Entry 2022, on 2020-01-15 at 19:41:34 (Rating 3, Comments)
British comedian, Ricky Gervais, certainly made some interesting comments during his recent opening monologue for the Golden Globe awards. He has been controversial in the same role in the past, but this time he seemed to get right to the core of the problem with many parts of modern culture, including the status of celebrities, and there has been a significant amount of discussion and analysis of his speech.

So not wishing to miss out, I will present my own analysis of his speech here, first by stating what he said, then by offering my thoughts...

Gervais: You'll be pleased to know this is the last time I'm hosting these awards, so I don't care anymore. I'm joking. I never did. I'm joking, I never did. NBC clearly don't care either - fifth time. I mean, Kevin Hart was fired from the Oscars for some offensive tweets - hello?

Comments: I an also surprised that the organisers of this show keep inviting him back. There has been some open hostility towards him in the past, so I do commend the person who made the decision to have him back again for taking such a risk. Gervais does make a good point though, in saying that other people have been fired for far less than what he has said. One point which might explain the phenomenon: would anyone care about this silly award show if Gervais wasn't there? I mean, I wouldn't have a clue who won any of the awards, but I could quote parts of his speech. Maybe that's why he has presented at this show 5 times.

Gervais: Lucky for me, the Hollywood Foreign Press can barely speak English and they've no idea what Twitter is, so I got offered this gig by fax. Let's go out with a bang, let's have a laugh at your expense. Remember, they're just jokes. We're all gonna die soon and there's no sequel, so remember that.

Comments: He makes these points in a flippant way, but the essential validity of them is still obvious. They are just jokes - although like most good humour, the jokes have an uncomfortable underlying layer of truth - and in the greater scheme of things, offensive comments aren't that important. That, of course, is exactly what the "woke culture" most of the celebrities indulge in can't seem to accept.

Gervais: But you all look lovely all dolled up. You came here in your limos. I came here in a limo tonight and the license plate was made by Felicity Huffman. No, shush. It's her daughter I feel sorry for. OK? That must be the most embarrassing thing that's ever happened to her. And her dad was in Wild Hogs.

Comments: Felicity Huffman is a celebrity who was found guilty of fraud, in relation to college entry for her daughter, and was sentenced to 14 days in prison. I believe license plates used to be made by prisoners in the US, so that is the joke here. It is pretty disrespectful to a previously well thought-of celebrity, really... which is great!

Gervais: Lots of big celebrities here tonight. Legends. Icons. This table alone - Al Pacino, Robert DeNiro … Baby Yoda. Oh, that's Joe Pesci, sorry. I love you man. Don't have me whacked. But tonight isn't just about the people in front of the camera. In this room are some of the most important TV and film executives in the world. People from every background. They all have one thing in common: They're all terrified of Ronan Farrow. He's coming for ya. Talking of all you perverts, it was a big year for pedophile movies. Surviving R. Kelly, Leaving Neverland, Two Popes. Shut up. Shut up. I don't care. I don't care.

Comments: From what I understand (I'm no celebrity expert) Joe Pesci is short (5' 5") so this is just a personal insult more reminiscent of older shows. Ronan Farrow is a journalist who uncovered alleged acts of sexual abuse among Hollywood celebrities, and this is just a little reminder that the PC culture the celebrities support can also be used against them. The crack about "Two Popes" is just a reference to the constant uncovering of sexual misconduct amongst members of the Catholic Church - so another big, corrupt institution got hit, not just show business.

Gervais: Many talented people of colour were snubbed in major categories. Unfortunately, there's nothing we can do about that. Hollywood Foreign Press are all very racist. Fifth time. So. We were going to do an "in memoriam" this year, but when I saw the list of people who died, it wasn't diverse enough. No, it was mostly white people and I thought, nah, not on my watch. Maybe next year. Let's see what happens.

Comments: This is an attack on the identity politics common amongst celebrities. It seems that it is more important to get a good variety of genders and races in any group today rather than use any traditional criterion, such as competence or appropriateness. Does this even extend to who died during the previous year?

Gervais: No one cares about movies anymore. No one goes to cinema, no one really watches network TV. Everyone is watching Netflix. This show should just be me coming out, going, "Well done Netflix. You win everything. Good night." But no, we got to drag it out for three hours. You could binge-watch the entire first season of Afterlife instead of watching this show. That's a show about a man who wants to kill himself 'cause his wife dies of cancer, and it's still more fun than this. Spoiler alert: season two is on the way so in the end he obviously didn't kill himself. Just like Jeffrey Epstein. Shut up. I know he's your friend but I don't care.

Comments: Netflix appears to be taking over from traditional TV and movies, but it is just as vacuous, politically correct, and unimaginative as what it is displacing, a point Gervais failed to capitalise on unfortunately. I love the crack about Epstein though, the memes about him being killed - usually by either Bill or Hillary Clinton - rather than committing suicide were beginning to come up less often, so it's good to see the conspiracy renewed here, especially since so many celebrities are also allegedly involved.

Gervais: Seriously, most films are awful. Lazy. Remakes, sequels. I've heard a rumour there might be a sequel to Sophie's Choice. I mean, that would just be Meryl just going, "Well, it's gotta be this one then." All the best actors have jumped to Netflix, HBO. And the actors who just do Hollywood movies now do fantasy-adventure nonsense. They wear masks and capes and really tight costumes. Their job isn't acting anymore. It's going to the gym twice a day and taking steroids, really. Have we got an award for most ripped junky? No point, we'd know who'd win that.

Comments: I totally agree. The type of movies being made currently really are just the most terrible derivative and inane nonsense. I know people have been conditioned to make a big fuss of this stuff, but really: what level of intelligence to film-makers think the viewing audience have?

Gervais: Martin Scorsese made the news for his controversial comments about the Marvel franchise. He said they're not real cinema and they remind him about theme parks. I agree. Although I don't know what he's doing hanging around theme parks. He's not big enough to go on the rides. He's tiny. The Irishman was amazing. It was amazing. It was great. Long, but amazing. It wasn't the only epic movie. Once Upon a Time in Hollywood, nearly three hours long. Leonardo DiCaprio attended the premiere and by the end his date was too old for him. Even Prince Andrew was like, "Come on, Leo, mate. You're nearly 50-something."

Comments: As I said above, I also think movies - especially the superhero genre - are kind of pathetic, so I would agree with Martin Scorsese here - hey they can't be wrong all the time! I like the little dig about Prince Andrew there too. Another useless celebrity getting the criticism he deserves.

Gervais: The world got to see James Corden as a fat pussy. He was also in the movie Cats. No one saw that movie. And the reviews, shocking. I saw one that said, "This is the worst thing to happen to cats since dogs." But Dame Judi Dench defended the film saying it was the film she was born to play because she loves nothing better than plunking herself down on the carpet, lifting her leg and licking her ass. (Coughs.) Hairball. She's old-school.

Comments: The "Cats" movie has been severely criticised, which is unusual, so it must be really bad. I have never understood the popularity of the Cats musical. I don't know what Andrew Lloyd Webber was on when he wrote it, but it wasn't good! One famous (and really good) song is about all there is to it, apart from a bunch of actors leaping around pretending to be cats. Huh?

Gervais: It's the last time, who cares? Apple roared into the TV game with The Morning Show, a superb drama about the importance of dignity and doing the right thing, made by a company that runs sweatshops in China. Well, you say you're woke but the companies you work for in China - unbelievable. Apple, Amazon, Disney. If ISIS started a streaming service you'd call your agent, wouldn't you?

Comments: My readers will know I am a fan of Apple products, but I fully realise Apple is just as bad as all the other big corporations when it comes to their unethical stance on labour, payment of taxes, freedom of speech, etc. Tim Cook is a particularly politically correct leader who I find quite annoying on many occasions, so it was great to see Apple taken down this time. Whether "The Morning Show" really is superb or not, is hard to establish, but judging by the description he gave I think maybe Gervais was just trying to be sarcastic.

Gervais: So if you do win an award tonight, don't use it as a platform to make a political speech. You're in no position to lecture the public about anything. You know nothing about the real world. Most of you spent less time in school than Greta Thunberg.

Comments: This is the core point of the whole speech, I think. These celebrities really are arguably the worst possible group to be lecturing to the public. These are the people who are amongst the most privileged in society, yet lecture a lot of us about the privilege they claim we have. These are some of the richest people in the world, who really don't work particularly hard but still feel entitled to offer condescending advice on how to succeed. These are the people who say they want to see the poor and underprivileged succeed, and to see the country do better, yet hire the best accountants to avoid paying tax which might make those goals possible. In other words: these people (with rare exceptions) are the most ignorant, hypocritical, self-centered scum anywhere. Yet they still think they can lecture us? I would have been a lot more critical than Gervais was!

Gervais: So if you win, come up, accept your little award, thank your agent, and your God and F off, OK? It's already three hours long. Right, let's do the first award.

Comments: I love the phrase "little award" here. It's very condescending, and a bit like comparing this event to one where young kids get meaningless rewards for participating in some sort of pointless competition. Most people don't know who got the awards, and most couldn't care less. Unfortunately I believe some of the winners did make political speeches, not that many would be listened to because, as I said above, I know plenty of people who listened to Gervais rant, but none who watched the actual awards.

So yes, I really liked that Ricky Gervais rant. He did a great job of using humour to criticise the rich and powerful, in a similar way to how the court jester used to be the only one who could criticise the king - at least that's how I remember it from my study of Shakespeare in high school!

Comment 1 (6568) by Robert Smillie on 2021-04-26 at 07:34:36: Gervais nailed it!

Comment 2 (6569) by OJB on 2021-04-26 at 11:46:09:

He certainly did. The thing that I find odd is that people actually listen to Hollywood celebrities. These people are paid to be fake, to pretend to be what they aren't. It's almost like they are professional liars. Surely they should be the *last* people we listen to. I guess it gets back to the incompetent media again, paying too much attention to them.

You can leave comments about this entry using this form.
To add a comment: enter a name and email (both optional), type the number shown above, enter a comment, then click Add.
Note that you can leave the name blank if you want to remain anonymous.
Enter your email address to receive notifications of replies and updates to this entry.
The comment should appear immediately because the authorisation system is currently inactive.