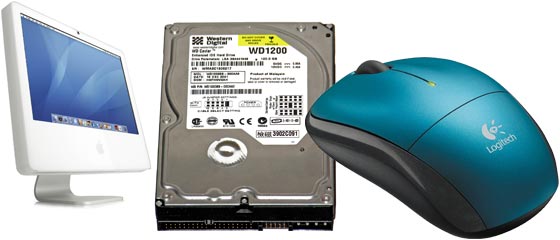 Add a Comment (Go Up to OJB's Blog Page)
Leopard Update
Entry 632, on 2007-10-31 at 22:02:59 (Rating 1, Computers)
I have now used Leopard for 5 days, so its time for me to offer further thoughts on its good and bad points. My initial enthusiasm remains basically intact, although there are a few things which I think could have been done better. I have had four software compatibility issues, and all except one are at least partly resolved. That's just one real problem from the approximately 450 programs I have installed on my machine - an almost 99.9% success rate.

Adobe Photoshop works but has a few mainly cosmetic issues. I also have Acrobat Pro but don't use it, so the fact that it doesn't work isn't that important to me. FileMaker Pro initially didn't work, but by fiddling with the region settings that now seems to work well. A useful shareware sound editing program I often use, Amadeus Pro, also crashed initially but I communicated with the developer and he fixed it in about 12 hours - that's really impressive Martin - well done!

The speed and reliability of the system continues to impress me. I managed to crash the Finder once when I was changing privilege information but it started again and in a few seconds I was working again. The general performance seems noticeably better than Tiger, especially Mail and Safari (and other Webkit browsers, such as OmniWeb).

I am finding Spaces is increasingly useful because I always work on many tasks simultaneously. I can have a web browsing space, a tech and development space, and a general space. I have tried from 2 to 9 spaces and I think 4 (in a 2 x 2 grid) is the best compromise (it gives me enough room to work in but I can also move from one space to any other with a single control-arrow press).

Quick Look continues to impress me. I can quickly look at Word, Excel, PowerPoint, and many other files without having to use the programs themselves. In fact, I haven't even used Microsoft Office yet which is definitely something I want to continue.

Here's a few other comments on less commonly mentioned features. The new help system is nice. Its much faster than the old one and the way it displays the location of menu commands is really cool. Being able to change the file suffix without clicking a dialog is a simple but useful change. The new terminal has tabs so I don't need iTerm any more (it was a nice program but had a few problems). The new voice, Alex, is very clear and I use it a lot to read documents. Switching into Dashboard is now instant (at least after the first time its used) which means I use it a lot more. Spotlight is a lot faster and its now useful for quickly launching applications.

But there also are a few things I don't like so much. Movie previews in the Finder aren't as useful as they were previously because the QuickTime controlled isn't displayed any more. Stacks could be a lot better. Displaying a folder in the Dock as a pile of icons is confusing. Fans look cool but need to be able to display more items by resizing the icons. The Dock loses a lot of its cool new stuff (the 3D shelf look and fans) if it isn't at the bottom of the screen.

On balance though, I would never go back to Tiger. Leopard isn't perfect but its better than anything else I've used by a big margin. Maybe 10.5.1 will fix some of the issues we've seen and a fully Leopard compatible version of Creative Suite and an Intel native version of Office (for those who use it) will just complete the picture.



Comment 1 (970) by BF on 2007-11-09 at 09:31:55:

Some magazines say there are serious problems with Leopard such as problems with copying files and security problems. What do you say about that?

Comment 2 (974) by OJB on 2007-11-09 at 15:23:55:

I don't think any of these are as serious as they would have you believe. For example, how many people know how to move a folder (instead of copying) in Mac OS X anyway? I agree that it is very poor programming technique on Apple's part and I hope they fix it soon. Mac OS X 10.5.1 isn't far away and I suggest anyone who is concerned with purchasing the initial release to wait until then.



You can leave comments about this entry using this form.
To add a comment: enter a name and email (both optional), type the number shown above, enter a comment, then click Add.
Note that you can leave the name blank if you want to remain anonymous.
Enter your email address to receive notifications of replies and updates to this entry.
The comment should appear immediately because the authorisation system is currently inactive.