Next Previous (Up to OJB's Mac Tips Page)
Finder Windows
I have two windows always open on my desktop. Both are in column view and I have useful buttons and icons in the tool bar. Usually I will have the folder I am working with open in one window and another folder (programs I am using, temporary storage, backup copies) in the second window. To move items from one place to another just drag from one window to the other.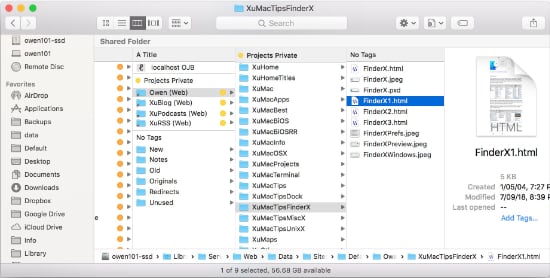 Note that you never get in the situation where Finder windows cover each other up this way (as is common in Mac OS 9). Make sure that the common folders you use are in the tool bar (I use Computer, Home, Applications and Documents). Just drag the icon of the item you want to the toolbar to permanently store it there.
In the picture below you can see the preview function of Mac OS X. In the left window an MP3 is being played in the Finder. in the right window the contents of a JPEG picture are being displayed.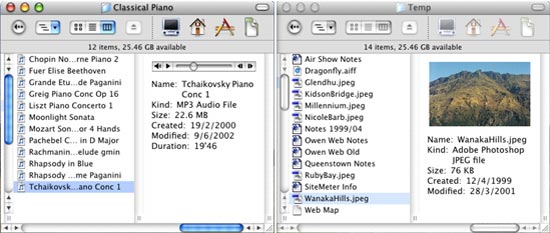 Obviously this is much quicker and easier than opening a whole series of images looking for the right one. You can preview documents in other view modes (list and icon) but you need to use the Show Info command and select Preview from the pop-up. Once the Info window is open any icon you click on will be previewed there.