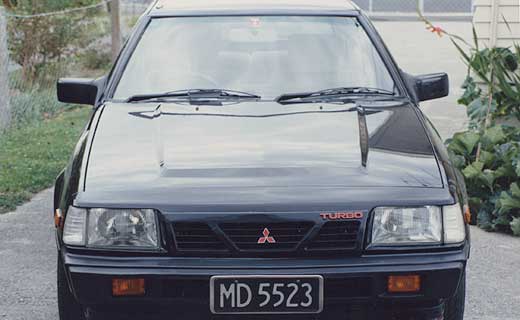 Mitsubishi Cordia Turbo
I owned a 1988 Mitsubishi Cordia Turbo for a few years in the 1990s. It was the first "sporty" car I owned - before that I had a quite different car, a Ford Falcon XD - very practical and good for quietly cruising but not a lot of fun to drive!
The Cordia was a light, 2 door hatch with a 1.8 litre turbocharged single overhead cam engine. Mine had a 5 speed manual gearbox driving the front wheels. The power output wasn't overwhelming (aroud 140 horse power) but for a small, light car it was enough to be fun - especially considering the 4.1 litre Falcon I had previously weighed about twice as much and only managed 95 horses!
The "Cordi" was quite reliable. The only ongoing problem I had was a loose connection in the electronics which occasionally required some "jiggling" before the engine would start. For some reason, even though I showed them which wire it was, it was never fixed by the mechanics. It also used quite a lot of oil, especially after it had done a few kilometers, but apparently this is common for Mitsubishi engines of that vintage.
Styling was quite nice for that era - it looked good, especially in black. The back seat was small for adults but that is a common problem for this sort of car. There wasn't a lot of luxury items - no electric windows, a fairly basic stereo, no air conditioning - but maybe that's part of the reason so few things went wrong! Overall, it was a nice little car - a good combination of practicality and fun.

Comment on this page: Interesting • OK • Boring or: View Results