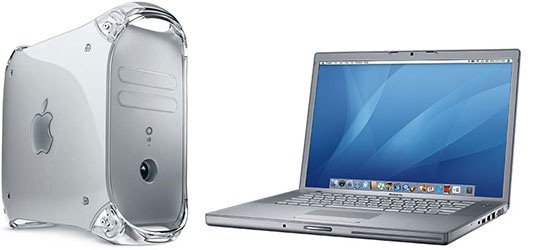 Discuss (Up to OJB's Computers Page)
My Home Office, Update: November 2015
My system continues to improve. I now have 4 servers, all Xeon based Mac Pros. There is an eight core machine which I use as my media server. It has a music, photo, and movie library accessible to other computers and my Apple TV. There are also 3 quad core machines: a file server, a web server, and a backup server. Total storage is almost 20T (there is also another 20T of storage in other areas). I use Western Digital hard disks for all servers except the web server which has a Kingston solid state drive.
The network structure starts with an ADSL router (fibre should be here soon) which connects to a master switch for the server and a second 24 port master switch which in turn feeds other switches in each room at 100 MB/s. There are 6 in total, plus 4 Apple Airport wifi access points, one in each corner of the house.
I do most of my work on an 8 core i7 MacBook Pro which can be used anywhere but I also have an office with 3 Core 2 Duo Mac Minis and an older 17 inch i7 MacBook Pro. In total there are 4 Mac laptops, 4 servers, 4 desktop machines, 3 older Macs (for accessing older software), 2 iPads, 4 iPhones, an Apple TV, 4 Apple Airports, a black and white laser, a colour laser, and a colour inkjet photo printer. Oh, by the way, all of this stuff is locked down (there are quite substantial chains behind the servers for example) so it should be secure!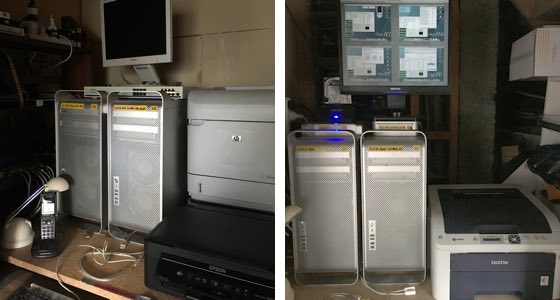 These photos show my current servers and printers. On the left is the file server and web server, and on the right the backup server and media server. The screen on the right is attached to a Mac Mini which uses Apple Remote Desktop to show the screens of all 4 servers without needing 4 separate screens.
Update: September 2012
I decided to reorganise the servers and network equipment in September 2012. The challenge was to do this with minimum (preferably zero) downtime on the web server. After some testing I decided to continue to use the 1.8GHz Power Mac G5 as the web server because I only have limited bandwidth into the house anyway and any greater speed would be wasted. But I replaced the Mac Mini with a quad processor G5 Mac to run backup, file, and other services. I also re-arranged the switches and routers to make re-wiring easier.
My main computer is a MacBook Pro 2.66 GHz i7 with 8G of RAM and a 500G hard disk. I have a selection of hard disks which store my media and other material and total about 20T capacity. All my CDs and DVDs are now stored on these disks.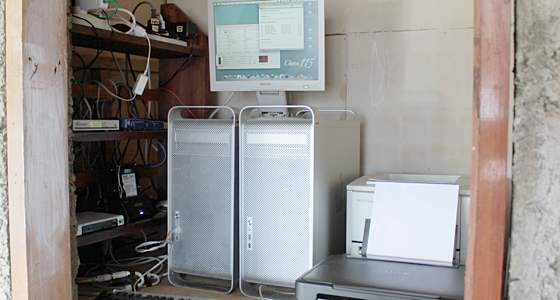 This is my server area with the web server and file server, a networked laser printer, an inkjet printer on the right, and various network routers and switches on the left.
Update: June 2012
My main web server is now a 1.8GHz Power Mac G5. While this is an older machine it still provides good performance for the traffic the site receives (about 50,000 page views per day). I also have a Mac Mini G4 1.25 GHz which runs backup services for the other computers in the house.
My ADSL router feeds an 8 port switch which in turn feeds the servers and networked printer. A second port on the router feeds (via a router which can be used to measure and limit traffic to other machines) several other switches and three wireless routers. These supply networking to 6 Mac laptops, 4 desktops, an iPhone, an iPad, a TV, a Freeview decoder, a Blu-ray player, and a media player.
Update: October 2007
I have moved my main web site (which you are currently viewing) and other services from a server at work to one at home. I now have faster Internet, both upstream and downstream to handle the demand and so far the performance is adequate for the moderate amount of traffic I have. I even built a little area in my basement where the servers live!
My home network is fed from an ADSL router (theoretically unlimited down and 1 Mbit up) with four 100mbit/s Ethernet ports. This feeds an Apple Airport wireless base station (54 Mbit/s) and four 100 Mbit/s switches through the house connected with Ethernet. The Ethernet cables run across various parts of the mouse and pop out mostly through existing phone connectors. Retrofitting a house with networking can be really awkward!
There are three laptops using the wireless (which also picks up music and feeds it to my amp) and six other machines connected through Ethernet. There are two main servers: one which does web and database serving, and another which does file serving and backup for the other machines.

Left: The two servers are both older 400MHz G4 mini-towers. This site is served from the machine at left.
Middle: One of the four switches which handle Ethernet traffic around the house over 100 Mb/s twisted pair cabling.
Right: Our lounge, with two laptops in the foreground and the ADSL router in the background.
There are now four digital cameras in the house and we now have an iPod Nano as well as an iPod 3G and Mini. there is an extra Brother laser printer which isn't really being used at the moment.
Update: January 2007
I now have a MacBook Pro 17 inch 2.3 Ghz Core 2 Duo to replace the PowerBook G4 (which I have kept to test older programs). It has 2 GB of RAM, a serial ATA 160G hard drive, a dual layer DVD writer, 802.11n wireless, a 1680 x 1050 17" screen, and many other nice features. In case you're wondering, the MacBook Pro is also the main machine in my work office - one of the advantages of a laptop!
Update: July 2006
The old iBook G3 has been replaced with a newer 1.5GHz G4 iBook, which is now the fastest machine we have at home. My PowerBook G4 has been upgraded from the 1 GHz model to the newer 1.33 GHz model. Phillip and Nicole have Power Mac G4 733s. I have a Power Mac G4 450 server which I use for testing web sites, backing up the other computers, and storing extra information. There is also an iMac G3 266 and a Beige G3 233 for playing older Mac OS 9 games, and a 7200 with a video digitising card which is never used!
I have had all of these machines connected to ADSL for about 2 years now, but the 1 GB per month limit is too small so I will probably change providers soon. There is also an AirPort wireless network installed so that the two laptops can be used wirelessly. The network is tied together with rather suspect twisted pair cabling through 2 100 MBps switches and an ADSL 4 port router.
I have two older Apple laser printers and a photo quality Epson inkjet for printing. There is also an Epson scanner which I haven't used for years. I now have a Canon EOS350 digital SLR and a Kodak compact digital camera. I should have another compact digital camera as well soon. Our iPod collection includes a 15G 3rd generation and a 4G mini.
Update: April 2004
We now have an iBook at home so the PowerMac G4 will be re-allocated. The older machines have been decommissioned, except for the 7200 which still has the video digitising card installed.
Update: August 2003
The latest news is that my main computer is now a Powerbook G4 17". I take it with me everywhere and get a lot of extra work done that way. Also I don't need to spend time keeping my home and work computers in sync, because they are the same computer! I also have a new Epson Perfection scanner and an Epson Photo Stylus 830 printer - which produces excellent photo-quality output! I have also bought a used Apple Laserwriter 12/640 Postscript laser printer.
Recently I also extended my home network which now has an extra 10/100 MB/s switch and more cabling going to other rooms. Most of the old equipment mentioned below is still in use. My wife now uses the G4, my daughter has an iMac, and my son has the G3. You can never have too many Macs I always say!
My Home Office: 2002
My main machine is a Power Mac G4/400 mini-tower. It has 640M of RAM, a 20G internal hard disk and an 8G external SCSI disk I use for moving files from one computer to another and for temporary storage. The main monitor is a Sony E200 17 inch multi-scan. I run Mac OS X on this machine and it has an excellent selection of useful software I use for web site development, database creation and many other functions (including running cool Mac OS X versions of games like Oni and Myth).
I also have a Power Mac 7200/120 with 48M of RAM and two 1.2G hard disks. It has an ATI video input/output/acceleration card which I use for digitising analog video and audio from the Panasonic Super-VHS video player or Sony video recorder. The card also allows watching TV and videos on the screen of the 7200 so a TV isn't required for this room.
There is a rather ancient Microtek E6 flatbed scanner and a Sony CD writer attached to the 7200. They are situated under the desk - its a very compact installation!. The mini stereo is used for playing my extensive MP3 collection with reasonable sound quality and for making games sound so much better!
Sitting on the desk at right are the charger for my Nikon Coolpix digital camera and my Sanyo analog video camera (I'm not yet into digital video). I have had good quality "serious amateur" conventional camera gear for years and have only recently started using digital seriously. Its starting to get to the point now where a serious amateur photographer can consider digital as an option without having to spend heaps.
The LC II is only used to attach the old Apple laser printer to the network. The Ethernet hub connects everything at 10 Mb/s (only one computer has 100 Mb/s networking). There is also a Power Mac G3/233 with a 17 inch monitor and an Epson SC-800 networked inkjet in the room. Elsewhere in the house is another 7200/120, an LC 575, a PowerBook 150, a Powerbook 100, an Apple eMate, a Newton 100 and by beloved Newton 2000. Did I mention all the spare machines as well, like 3 Power Mac 6100s, Classics, LCs, etc. Ever get the impression I like Macs? :)
I think Newton was great technology. It really bugs me that Apple killed it off just when it had got to the point of working really well. The Newton 2000 and 2100 are fast, have plenty of memory, have reliable handwriting recognition and good expandability. I use my Newton 2000 every day, its just unbelievable that Apple could build something years ago that the competitors are only just matching now. No wonder many Newton fans say that Apple got the Newton technology from the future through a time warp!


Comment on this page: Cool • OK • Dont Care or: View Results