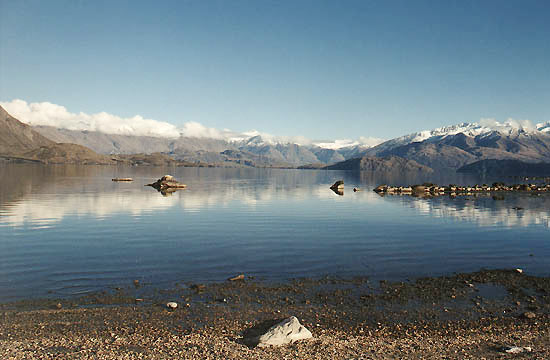 More Photos of This Area (Up to OJB's Wanaka Photos Page)
Lake Wanaka
Clean, crisp and cool. Lake Wanaka with the mountains of Mount Aspiring National Park beyond. There's still a bit of spring snow blending with some cloud clinging to the mountain tops.
Wanaka is a small town which hasn't been turned into a tourist trade rip-off like nearby Queenstown yet. I suppose it will happen one day and then the New Zealanders will have to retreat to the next free area - maybe Hawea. Wanaka is popular in winter for its two big ski-fields: Cardrona and Treble Cone, and in summer for tramping, aquatic and other outdoor activities.
The lake is nearly perfectly still here, creating an excellent opportunity to capture reflections but the pebbles and rocks can still be seen through the water at the edge of the lake. The typical, subdued color range of browns, blue and white capture the Central Otago landscape perfectly. The composition uses the mountains on either side to create a subtle framing effect for the lake.


Comment on this photo: Magnificent • Nice • Average or: View Results