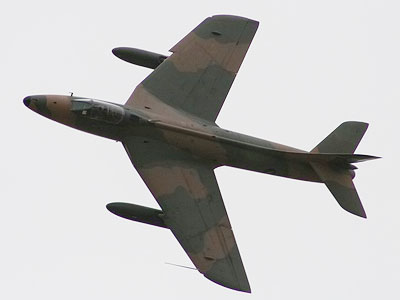 I have always admired the Hunter because it is just a nice looking aircraft, which was also liked by pilots who considered it something like a jet equivalent of the Spitfire.
This photo (left) and the main photo (above) both give a good view of its streamlined design, and nicely swept back wings.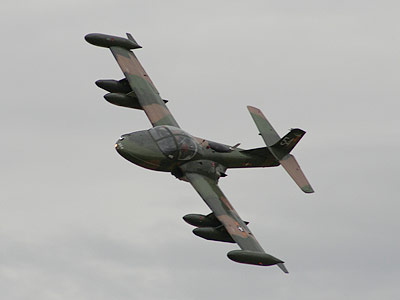 The A-37 Dragonfly is a regular display at Warbirds. Its a fairly modern jet, originally developed from the training version, the T-37, and used in Viet Nam as an attack aircraft, flying 165,000 sorties.
It was successful due to its high loiter time, small size, and ability to carry an impressive total weight of weapons. It could actually carry its own weight in bombs, rockets, etc.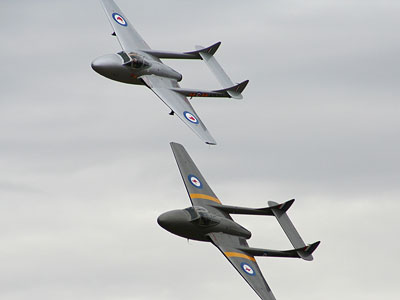 The Vampire was designed near the end of World War II, and has been in active service until quite recently. It was used by Austria, Australia, Burma, Canada, Chile, Dominican Republic, Egypt, Finland, France, India, Indonesia, Iraq, Ireland, Italy, Japan, Jordan, Lebanon, Mexico, New Zealand, Norway, Portugal, Rhodesia, South Africa, Sri Lanka, Sweden, Switzerland, Syria, United Kingdom, and Venezuela.
The maximum speed is 530 mph, the range is 1,090 miles, and the service ceiling is 40,000 feet. Armament was 4 20 mm Hispano cannons, and 2 1,000 lb bombs or 8 3 inch rockets.