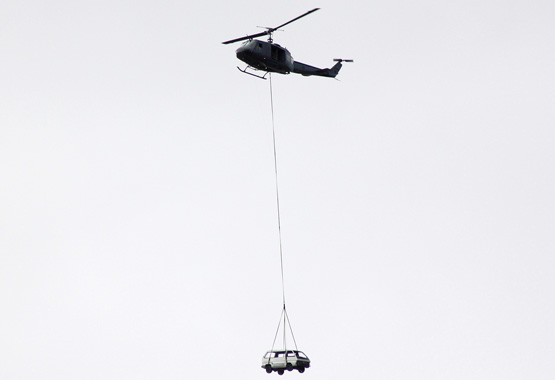 Discuss (Up to OJB's Warbirds 2010 Page)
Van Drop
The Royal New Zealand Air Force displayed various aircraft and they used the Iroquois helicopter to perform this humorous stunt dropping and smashing an old van. An announcement over the PA system asked for the owner of a vehicle to remove it because it was blocking an emergency exit. When the owner failed to move the vehicle the Iroquois was despatched to deal with it by lifting it out of the way and dropping it from a good height!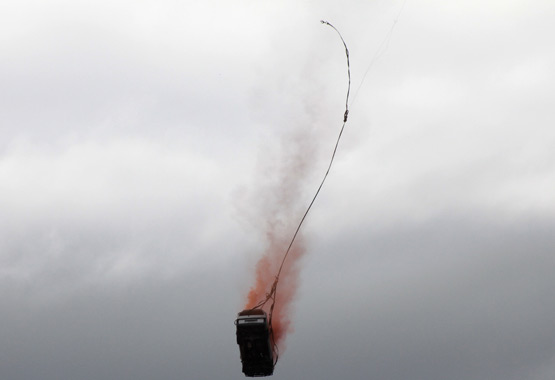 The Bell UH-1H Iroquois was developed in 1952 to act as a general purpose helicopter for the United States army. The original designation was HU-1 and this lead to the common nickname of "Huey". The design is so successful that its still being used today, including by the US Drug Enforcement Agency in Afghanistan.
Specifications...
Name: UH-1H Iroquois
Manufacturer: Bell
Power plant: One Lycoming T53-L13B engine (1,400 shp derated through the transmission to 1100 shp)
Length: 17.27m with rotors turning
Width: 2.8m (fuselage)
Height: 4.4m (fuselage)
Basic weight: 2,600kgs
Gross weight: 4,300kgs
Max underslung load: 1,045kgs
Cruising speed: 195km/h
Max range: 370 km, 682km with auxiliary fuel tank
Crew: 2 pilots, one helicopter crewman (Normal Ops)
Crew: Two pilots, one helicopter crewman, one crewman or gunner (Tactical Ops)
Crew: Two pilots, 2 helicopter crewmen (Night Vision Ops)
Capacity: Nine passengers or, five troops with full packs or, seven troops in light order
Rescue winch: 270kg max load. Cable length 76m
Nightsun searchlight: 30 million candle power
Armament: 2 x M60D 7.62mm machine guns (being replaced by MAG58 7.62mm)
Sources: Wikipedia, RNZAF, Warbirds Over Wanaka 2010 Programme.