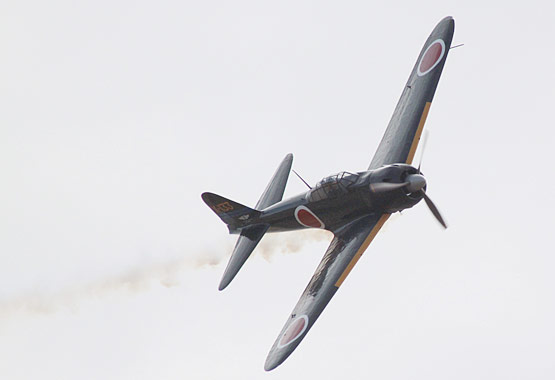 Discuss (Up to OJB's Warbirds 2010 Page)
Zero
The Zero is a World War II fighter which has never been displayed at Warbirds before. They are very rare and this is one of only three airworthy examples still existing. Their success was due to their light weight, maneuverability, and long range. At the start of the war in the Pacific they were better than most of their opposition although they were outclassed by later American fighters produced nearer the end of World War II.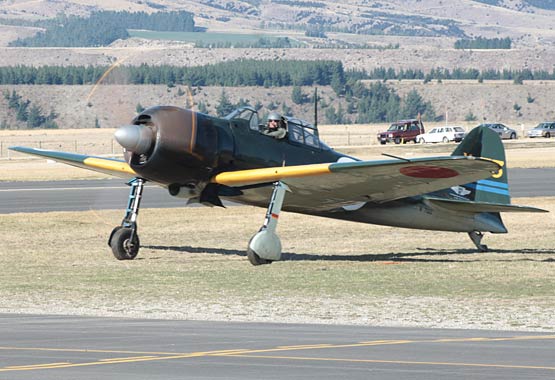 The original model of the Zero was powered by a radial engine of 780 hp and this power was increased to 925 and then 1130 hp in later models. The example at the show was powered by a Pratt and Whitney R1830 engine producing about 1200 hp.
Specifications (A6M5)...
Engine: One 1130-hp Nakajima NK1C Sakae 21 radial piston engine.
Weight: Empty 4175 lbs., Max Takeoff 6504 lbs.
Wing Span: 36ft. 1in.
Length: 29ft. 9in.
Height: 11ft. 5.75in.
Maximum Speed: 346 mph
Ceiling: 35,100 ft.
Range: 1118 miles with internal fuel.
Armament: Two 20-mm cannon and two 7.7-mm machine guns.
Number Built: 10,500
Sources: Wikipedia, Warbird Alley, Warbirds Over Wanaka 2010 Programme.