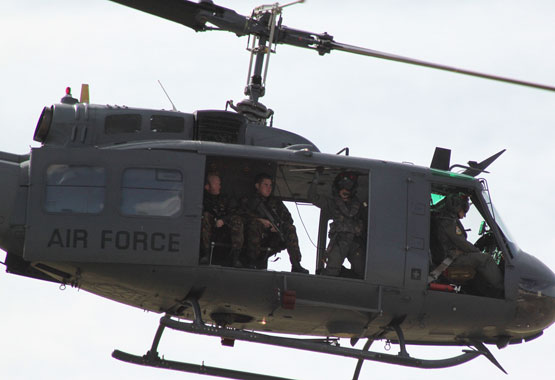 Discuss (Up to OJB's Warbirds 2012 Page)
Iroquois
The Iroquois first flew in 1956 and is still in use by some air forces (such as New Zealand's, although it is currently being replaced and that process should be complete by 2013) over 55 years later! Of course the basic design has been changed a lot since then and there are a huge number of variants of the original model.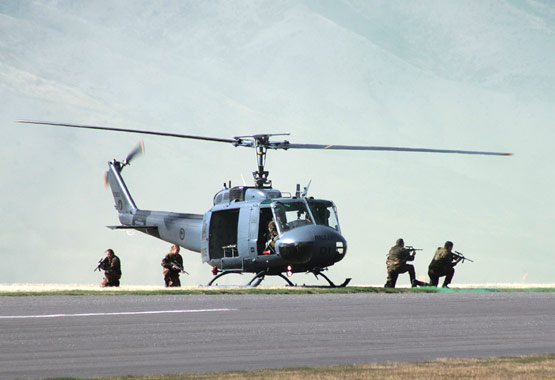 A demonstration at the air show involved some troops being transported to a position marked with the green smoke you can still see a small amount of in the foreground.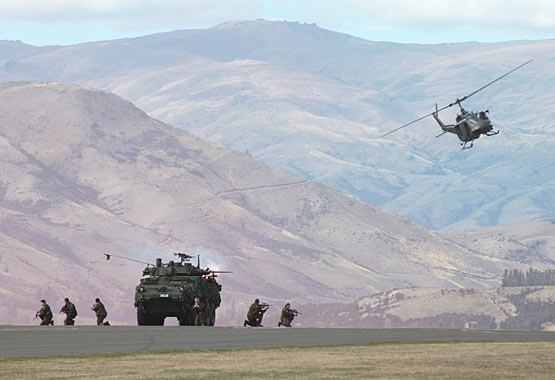 This demonstration involved a New Zealand light armoured vehicle (LAV). The LAV is not a true tank but is capable or being driven at up to 100 kilometers per hour on standard roads. The New Zealand Army has 105 of vehicles which are built by General Motors Defense, Canada.
RNZAF Iroquois Specs:
Power plant: One Lycoming T53-L13B engine(1,400 shp derated through the transmission to 1100 shp)
Length: 17.27m (57ft) with rotors turning
Width: 2.8m (9ft 3in) fuselage
Height: 4.4m (14ft 4in) fuselage
Basic weight: 2,600kgs (5,800lbs)
Gross weight: 4,300kgs (9,500lbs)
Max underslung load: 1,045kgs (2,500lbs)
Cruising speed: 195km/h (105kts)
Typical performance: Max range of 370km (200NM), 682km (370NM) with auxiliary fuel tank
Crew...
Two pilots, one helicopter crewman (Normal Ops)
Two pilots, one helicopter crewman, one crewman or gunner (Tactical Ops)
Two pilots, 2 helicopter crewmen (Night Vision Ops)
Sources: Wikipedia, RNZAF, Warbirds Over Wanaka 2012 Programme.