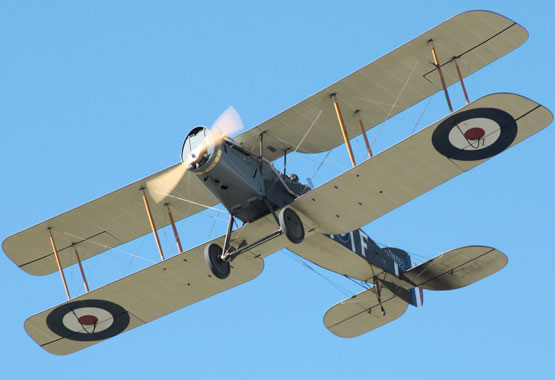 Discuss (Up to OJB's Warbirds 2012 Page)
Bristol Fighter
Despite being a relatively large two seater the Bristol Fighter was still competitive against single seater opponents in World War I. It was faster and more maneuverable than many would have assumed and it remained in service right up to the 1930s.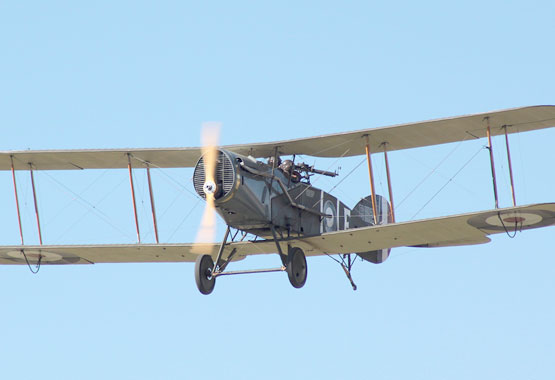 The forward facing 303 Vickers machine gun was the main weapon but the rear facing 303 Lewis Gun operated by the observer could act as a "sting in the tail" which the smaller fighters lacked. Some models even had two guns in the observer's cockpit.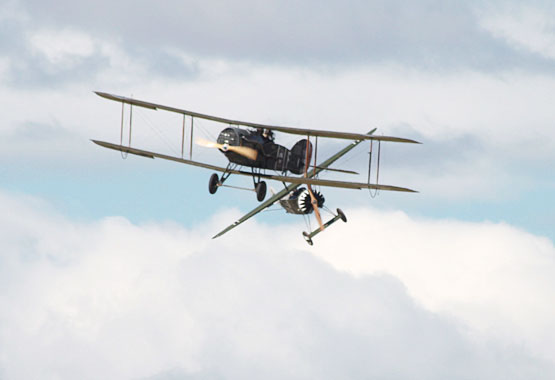 In the mock dogfight which the "Brisfit" was involved in at the show it looks like the little Fokker D8 is on its tail and has the advantage this time!
Bristol Fighter Specs:
General characteristics...
Crew: 2 (pilot & observer/gunner)
Length: 25 ft 10 in (7.87 m)
Wingspan: 39 ft 3 in (11.96 m)
Height: 9 ft 9 in (2.97 m)
Wing area: 405 ft2 (37.62 m2)
Empty weight: 2,145 lb (975 kg)
Max. takeoff weight: 3,243 lb (1,474 kg)
Powerplant: 1 x Rolls-Royce Falcon III liquid-cooled V12 engine, 275 hp (205 kW)
Performance...
Maximum speed: 123 mph (107 kn, 198 km/h) at 5,000 ft (1,500 m)
Range: 369 mi (320 nmi, 593 km)
Service ceiling: 18,000 ft (5,500 m)
Rate of climb: 889 ft/min (4.5 m/s)
Armament...
Guns: 1 x .303 inch (7.7 mm) forward-firing Vickers machine gun in the upper fuselage
1 or 2 x .303 inch Lewis Guns in the observer's cockpit
Bombs: 240 lb (110 kg)
Sources: Wikipedia, Warbirds Over Wanaka 2012 Programme.